Escalator Handrail Mechanism
An introduction to and maintenance tips regarding this important safety/comfort system
The handrail movement mechanism of an escalator consists of a complex structure, which has its own characteristics from other parts of the system. Major manufacturers produce handrails in two shapes: "C" and "V." The inside of "C" is smooth, requires little friction and is driven by a wheel with a layer of compressed rubber on it. As for "V," there is a tab inside that concentrates the friction force in the middle of the handrail. The tab is moved by a wheel that travels in a groove in the middle of the handrail.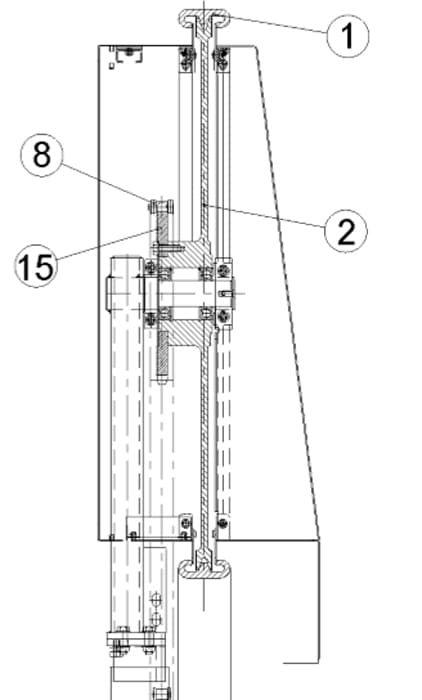 Application
"C"-shaped handrails are usually used in commercial escalators and are suitable in terms of price, and their lifespan is shorter compared to type "V." "V"-shaped handrails are usually used in long escalators. These are expensive, and their working life is long.
Handrail Movement Mechanism
The speed of the step and its chains are interdependent. To help ensure passenger safety, the handrail must have a set of actuators that are in synchronization with each other.
The main axis (sprocket) of the escalator is in the machinery space. In escalators with two motors, it is powered by the motor via two chains and transfers it to the step chains, causing them to move.
Most escalator manufacturers use an axle and interface chains to provide the necessary force to move the handrail from the main shaft. This mechanism requires the following components and adjustments to work properly (numbers relate to Figure 4):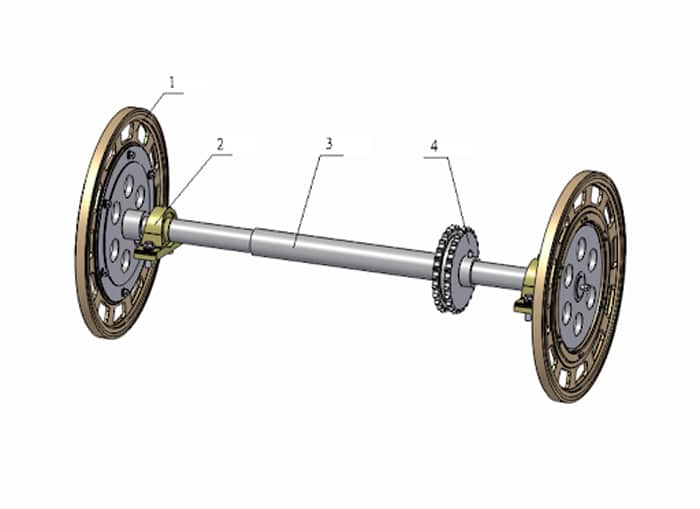 An axis (according to the width of the steps) usually in three sizes: 600, 800 and 1,000 mm
Two cast-iron pulleys that ride on a layer of compressed rubber on the inside of the handrail (usually connected to the shaft by six screws)
Two bearings to control the torque generated by the movement of the shaft and the weight generated by the cast-iron pulley on the handrail shaft
Two chains proportional to the pitch (distance between teeth) of the gears to transfer power from the main shaft to the handrail shaft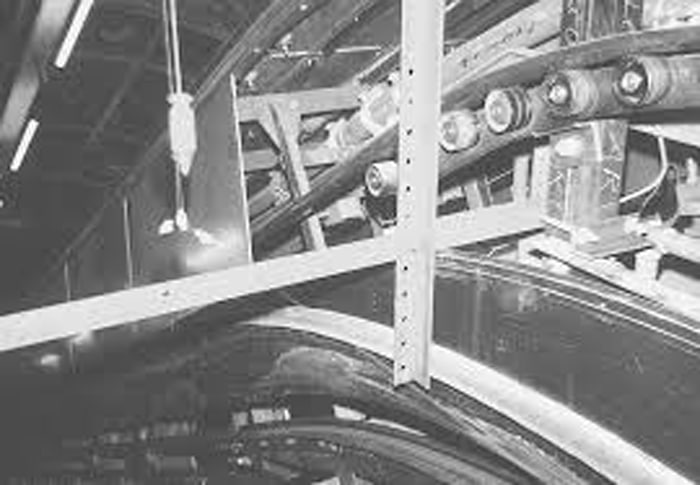 To adjust the tension and pressure between the handrail and the cast-iron pulley, we must use a set of cluster and spring rollers, which can also be used to adjust alignment of the handrails and pulleys. After checking the accuracy of all connections and settings, we can run the escalator to test the quality of the handrail movement.
Newel Chain
The newel chain (Figures 6 and 7) is in the upper and lower arches of the handrail. Its bearing assembly is used to reduce friction and move the handrail easily. In commercial escalators, it is complex and made of plastic. In heavy-duty escalators, its bearing assembly is made of metal with large rollers.