New-generation electric and hydraulic lifts are highlighted in this Product Spotlight.
In the European Union (EU), lifting platforms with enclosed hoistways were initially developed according to many EU member states' accessibility requirements to help transform their societies to more accessibility-friendly communities for the elderly and disabled. Over the years, lifting platforms have evolved into reliable, low-cost and efficient solutions for vertical transportation in private houses and public places with reduced traffic. KLEEMANN has been involved in their design and manufacturing for more than 20 years, beginning with its Maisonlift series of cabin platform lifts.
As technology and market requirements evolved, it became obvious that new solutions with advanced characteristics should be developed and delivered to the global, including the U.S., market. KLEEMANN R&D needed to consider a variety of key points:
Optimum use of space: any new solution should be designed to occupy as little room as possible, and, therefore, be able to fit into limited spaces when required.
Reduced pit and headroom requirements: most cabin platform lifts are intended for existing buildings, so it was essential to keep the pit and headroom dimensions as low as possible.
Ease of installation/simplicity of design: the design should be simple and straightforward to allow fast installation, thus minimizing nuisance to the building tenants and keeping labor costs to an absolute minimum.
Affordable purchase prices: cabin platform lifts are also popular with buyers (mostly homeowners), thanks to their low prices.
Advanced performance: keeping the lift simple does not mean it shouldn't offer high ride quality.
KLEEMANN initiated the design process of its new generation of cabin platform lifts by taking into consideration the above parameters and receiving valuable feedback from its customers. The result was two new home lifts, the Maison100 H (hydraulic drive) and Maison100 E (electric drive).
Maison100 H
Low Pit and Headroom Dimensions
The Maison100 H is based on the previous models of the Maisonlift family. It needs only 100 mm of pit, regardless of the flooring material. It is available with rubber, laminate or recessed floor up to 12 mm. This is probably the lowest pit requirement of all cabin platform lifts in the market. Additionally, the pit requirement remains the same, no matter if the lift is to be installed in a masonry or an aluminum shaft.
The minimum dimension for the headroom requirement is 2,400 mm for the swing door version. What is new is that the headroom requirement for the use of automatic sliding doors is only 2,520 mm, again one of the lowest values in the market. The lift is also available with 2,100-mm-high doors that demand headroom of an additional 100 mm (2,620 mm).
Low Machine-Room Cabinet Dimensions
The cabinet containing the power unit and controller measures only 1 m wide and 1 m tall. One of the most compact cabinets on the market, it allows flexibility, as it can be placed almost anywhere in the house and easily concealed in a confined space if needed.
Enhanced Ride Quality
The Maison100 H is available with a two-speed valve block from Blain Hydraulics as a standard option. This, together with the absolute encoder system included in the electronics package, ensures high ride quality and precise floor leveling (+/-3 mm).
Advanced Electronics Package
The Maison100 H uses KLEEMANN's new controller, the Genius20. To be equipped on all KLEEMANN lifts under the Lift or Machinery Directive, the new controller will ensure commonality in the electronic suite of all KLEEMANN lifts, greatly simplifying the maintenance process and making it easy for installation engineers to switch from one lift type to another. The controller also offers remote-monitoring capabilities through a Windows-based application.
Modular Cabin
The Maison100 cabin has been designed to minimize the required assembly time and provide flexibility in cladding selection. It is available in a variety of claddings: RAL, skinplate, st/st and glass walls. Its specifications and other installation parameters (pit depth, external dimensions, etc.) remain unaffected regardless of cladding material choice. Also, maintenance can be carried out from inside the car through its easily removable ceiling, allowing easy access to the main subsystems (door operators, drive unit, etc.) without special tools.
Maison100 E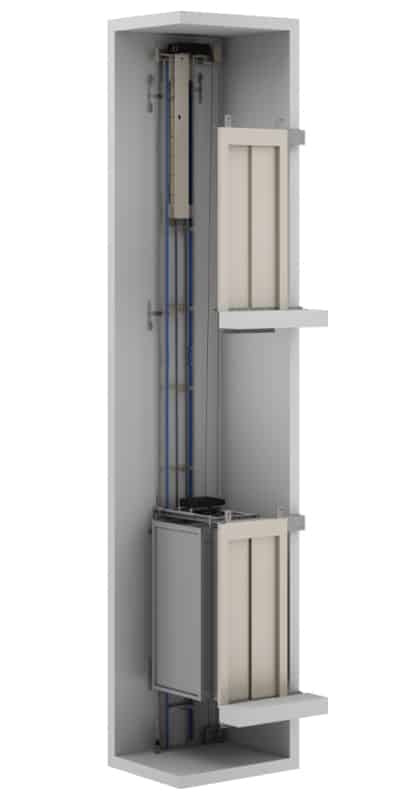 The Maison100 E is the electric variant of the Maison100 series. Its drive unit can be described as a combination of a screw/nut and belt drive with very low maintenance requirements. It also has very low pit and headroom dimensions, like its hydraulic counterpart: it requires only 100 mm of pit, and a headroom of 2,520 mm is sufficient for either swing or automatic doors.
Electric Drive Unit
The Maison100 E uses an electric drive unit without counterweight. In addition to its simplicity, this unit occupies a considerably reduced area compared to what a conventional traction gearless unit requires. It needs only 205 mm of space, almost half when compared to a traction home lift. This allows for a larger cabin in the given space.
Its operation is characterized by low noise levels and a smooth ride, thanks to its variable-voltage, variable-frequency drive, while the advanced electronics package (common with the Maison100 H) that includes an absolute encoder system (compared to magnets and magnet switches used by other lifts) ensures precise floor leveling.
Simple Installation
Conventionally designed electric home lifts (mostly of the traction type) can be demanding when it comes to installation. Two sets of guide rails, counterweight, ropes or cables often take a lot of time to install and properly adjust. Installation of the Maison100 E drive unit, together with guide rails and car frame, takes only around 7 h to be completed. It is estimated that a two-stop lift can be fully installed in three to four days, significantly reducing installation time.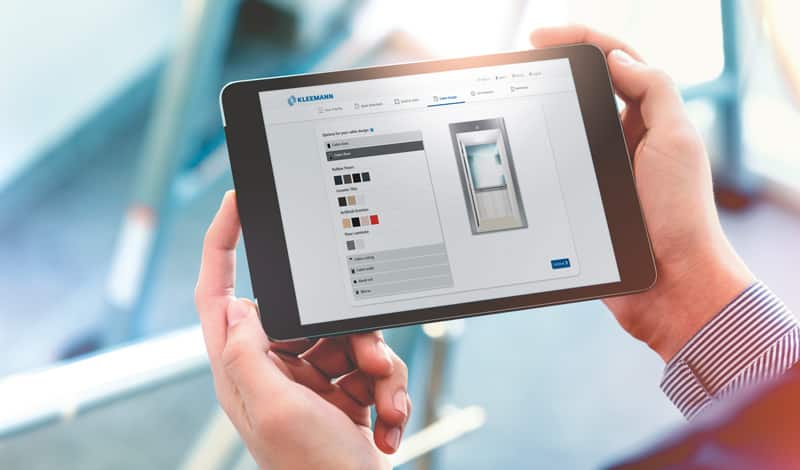 Web-Based Price Configurator
KLEEMANN customers can acquire detailed shaft drawings in a few minutes using KLEEMANN's online price and drawing configurator at portal@kleemannlifts.com. Designed to have a user-friendly interface, the program requires little to no training to use. The user may select the desired finishings for the cabin and doors by consulting the available images. It is possible to print the drawings to help provide an accurate picture of how the cabin will look. When ordering (integrated into the configurator) takes place, the process is carried out automatically, and the customer is notified through emails about the delivery date of the lift.