Large projects are on the horizon for Niagara Falls, Montreal, Toronto, Barrie and Surrey.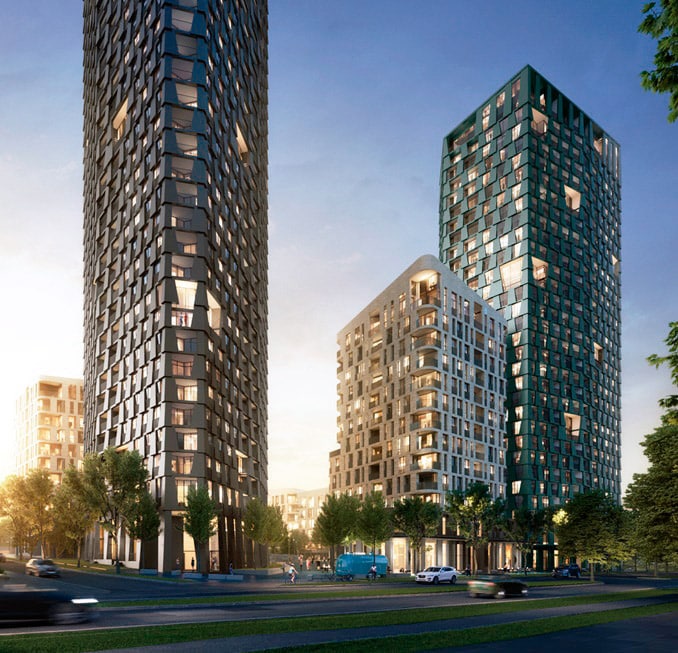 One of Country's Tallest Approved in Niagara Falls
A 72-story tower containing a hotel and condominiums was approved in late 2019 in Niagara Falls, sparking optimism among city leaders that the development will boost hotel occupancy and reestablish the city as a tourist destination, Daily Commercial News reported. To be one of the tallest buildings in Canada, the CAD400-million (US$303.1-million) project is set to rise on the site of a planned hotel on Stanley Avenue that stalled after 9/11. Planning Consultant David Falletta said "old owners teamed up with new international investors" to revive the site, being called Rudan Holdings or 6609 Stanley Nominee LLC. They hope to start construction "in the very near future" and complete the tower in less than three years.
VT Part of Largest Montreal Transit Investment Since 1960s
New vertical-transportation (VT) equipment is a key part of approximately CAD16 billion (US$12.17 billion) in infrastructure underway over the next 10 years at stations of the Société de Transport de Montréal (STM) public transport agency in Montreal, the Montreal Gazette reported in November 2019. What the source described as the "largest phase of development since the metro opened in the 1960s" includes bringing the number of elevator-accessible stations from 15 to 41 by 2025. Toward that goal, elevator installation was underway at an unprecedented 11 stations in fall 2019. Comparing the work to "repairing a plane when it's in full flight with passengers onboard," STM CEO Luc Tremblay said adding elevators involves major reconstruction of some stations. In addition to elevators, STM is upgrading or replacing its 293 escalators.
Elevator Specifics Among Details Approved for Toronto Tower
New details, including an adjacent, 15-story elevator core, have been approved for Northam Realty Advisors' and BTS Realty's 70-story, 277-m-tall condominium tower set to rise on top of the Bell Trinity Square office complex at 483 Bay Street in Toronto, the Council on Tall Buildings and Urban Habitat reported in November 2019, citing Urban Toronto. Revealed in renderings, a façade of staggered, rectangular frames and a landscaped "reveal" between the 29th and 30th floors distinguish the structure. According to the plan by architect IBI Group, the elevator tower would rise next to Bell Square's existing atrium. "Residents would first ride these elevators to and from the ground, with a transfer to the new building at any level from 11 to 15," the source observed.
Barrie Towers Approved Despite Residents' Concerns
City leaders in Barrie approved Barrie Waterfront Developments' (BWD) plan to build a pair of 39-story towers in the Theatre District on Dunlop Street West, Barrie Today reported. Consisting of two 32-story residential towers atop a seven-story podium housing retail, commercial space and parking, the plan was approved despite residents' concerns, including loss of a "landmark" theater building, potential nearby rent increases and height being out of character with the neighborhood. BWD was granted requirement exceptions to maximum height, allowable gross floor area and minimum parking. On the drawing board are more than 500 residences, 495 parking spots and ground-floor retail/commercial space.
Six-Building Project Approved in Surrey
City officials in Surrey have approved plans for The Passages, a high-density, six-building mixed-use development, Architects Journal reported in December 2019. The 89,943-m² project includes a series of towers, the tallest standing 38 stories, and would bring 1,126 homes to the suburb of Vancouver. The plan calls for 1,683 m² of shops and 2,738 m² of amenities, including a gym, coworking space, an auditorium, a media lounge, a sky bar, a bicycle workshop and a dog wash. The project is being developed by Rize Alliance Properties and designed by Alison Brooks Architects. Renderings show three high-rise buildings and three lower, multistory structures. The source said a timetable for construction of the project, which would be built in three phases, was not reported.
Get more of Elevator World. Sign up for our free e-newsletter.