Major contracts let, a record broken and plans for further growth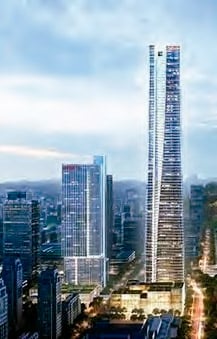 KPF Creates Innovative Design for Chinese UNESCO Site
KPF worked with its Urban Interface research and design group to create an innovative design for the multitower West Lake 66, on which ground was broken in September in Hangzhou, the Council on Tall Buildings and Urban Habitat reported. Taking shape between UNESCO World Heritage site West Lake and the Grand Canal, the development includes five office towers ranging from 11-30 stories, as well as a hotel, public parks and a mixed-use podium. The first phase of West Lake 66 is set to be partially complete in 2022, with design for phases two and three scheduled to begin in 2020. "The concept for the project was instigated by the challenges of the site, which is buried behind a main boulevard and nestled between a series of overscaled buildings," KPF Design Principal Jeffrey Kenoff said. "The design capitalizes on this seclusion and the need to redirect pedestrian flow by carving an active greenway through the site."
Hitachi China: Landmark Contract and World Record
September 10 was a big day for Hitachi Elevator (China) Co., Ltd., as it signed a maintenance contract for the 115-elevator system serving Shenzhen's Ping An Finance Center (ELEVATOR WORLD, August 2017 and June 2014) — at 599 m tall, the tallest building in southern China — and was recognized by Guinness World Records for the world's fastest elevator in the 530-m-tall Guangzhou CTF Finance Center. Implementing Hitachi's Internet of Things predictive-maintenance technology, the service contract includes the north tower elevator that reaches a height of 548.2 m, the highest lifting height among Hitachi's installations worldwide. Ping An Finance Center was designed by Kohn Pedersen Fox (KPF), developed by Ping An Group and is managed by Jones Lang Lasalle.
The 1,260-m/min (47-mph) Hitachi elevator serving the Rosewood hotel in the Guangzhou CTF Finance Center, also designed by KPF, achieved the Guinness World Record as fastest. The honor coincided with the elevator going into operation. Part of a 151-unit order, it travels more than 440 m from the hotel lobby to the 95th floor in approximately 42 s.
KONE to Supply Metro, High Rise
154 Units for Metro Line in Nanning
KONE has won a contract to install 154 units for the first phase of Metro Line 4 in Nanning, the company announced in October. The 24.6-km-long line will have 19 underground stations, four of which will be connected to other metro lines. KONE will equip 10 stations with 29 MonoSpace® elevators and 125 TransitMaster™ 140 escalators. The contract includes five years of maintenance.
Three metro lines are currently in service. In the future, the Nanning metro system will include a total eight lines. The first phase, being developed by Nanning Rail Transit Co., Ltd., is expected to be completed by the end of 2020 and, once open, will serve about 100,000 passengers per day. Nanning is the capital of the Guangxi Zhuang Autonomous Region in southern China.
70-Story Tower in Jinan
KONE announced in September it has won an order to deliver elevators and escalators to JiNan PingAn IFC, a new mixed-use development in Jinan, the capital of Shandong province in eastern China. Rising 360 m and comprising 70 stories, JiNan PingAn IFC will become the second-tallest building in the city and will bring office space, a hotel and a high-end shopping center to the CBD. The tower is expected to accelerate the development of the area. KONE will deliver 44 MiniSpace® and 16 MonoSpace® elevators, and 14 TravelMaster110® escalators. KONE will also install its E-Link™ monitoring system. The contract also includes two years of standard maintenance. The JiNan PingAn IFC project is expected to be completed in 2022. The developer is Ping An Real Estate Co., Ltd., and the architect is Hanjia Design Group Co., Ltd.
Slim, "Elegant" High Rise Approved for Prime Edmonton Site
In a split decision, city councilors in Edmonton, Canada, approved a 50- to 55-story tower containing apartments and commercial space that will take the place of a park next to the Fairmont Hotel Macdonald, which opened in 1915, CBC News reported. One of the councilors who opposed the plan said he is worried about the tower affecting views of the historic property, though he conceded the plan by developers ProCura and Great Gulf is better than a previous one — described by Mayor Don Iveson as "nasty and hulking" — with a slim profile Iveson said is more "elegant." Developers hope to start construction at the southeast corner of Jasper Avenue and 100th Street by the end of 2020.
Get more of Elevator World. Sign up for our free e-newsletter.