Major industry equipment contracts and construction updates from around the country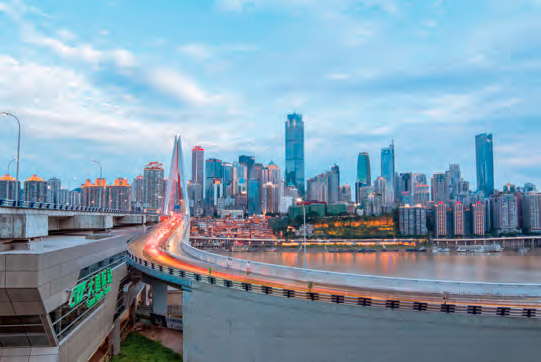 Contracts for Otis
Nearly 300 Units for Metro Systems
Otis Elevator Co. (China) Ltd. won contracts to provide 207 escalators and six moving walks to Chongqing Metro Line 9 and 85 escalators to the first metro line in Nantong, the company announced in June. In Chongqing, Line 9 will pass through five urban districts covering 32 km and including 24 stations. The area has a population of approximately 9 million. Installation of the equipment is scheduled at the end of 2020. In Nantong, a city of more than 7 million on the Yangtze River, Otis equipment will serve a metro line spanning 38 km with 28 stations. The Nantong line is set to open in March 2022.
133 Escalators for Airport Project
Otis China subsidiary Otis Electric Elevator Co., Ltd. has won an order to provide 133 escalators for the Hangzhou Xiaoshan International Airport Phase 3 expansion project, the company announced in April. The project will bring the total number of Otis Electric escalators and elevators at the airport to more than 200. The expansion is part of a push to improve the city's infrastructure as it prepares to host the 2022 Asian Games. Otis Electric has provided equipment and maintenance service for transportation facilities across China, including the Hangzhou Metro. It was also a key supplier to the 80,000-seat Hangzhou Olympic Sports Center. Hangzhou is the largest city in Zhejian province and is a popular tourism and conference destination. It is also home to one of Otis Electric's two manufacturing facilities in China, the other being in Chongqing.
KONE Wins Order for 200-Plus Units for Beijing Metro
KONE has won an order to provide more than 200 units of vertical-transportation equipment for the new Metro Line 17 in Beijing, the company announced in May. The 49.7-km-long Line 17 will have 21 stations and connect the Beijing Future Science Park in Changping to Yizhuang in southeast Beijing. Ten of the stations will connect with other lines on the Beijing Metro, the longest and busiest metro system in the world. KONE will provide 61 MonoSpace® elevators throughout the line and 143 TransitMaster™ 140 escalators for eight of the stations, from Panjiayuan Market West to Yizhuang South. Line 17 will be completely underground. The project, designed by the China Railway Electrification Survey Design & Research Institute, is expected to be complete by the end of 2022.
See-Through Observation Deck Opens High Above Chongqing
A glass-bottomed observation platform that protrudes from the end of an enormous enclosed skybridge 820 ft above the ground opened to visitors in Chongqing on June 1, the Daily Mail reported. The skybridge, called Crystal, stretches 984 ft across the tops of four skyscrapers, as long as a supertall is tall. It's part of a massive, eight-tower project known as Raffles City Chongqing. Crystal is a structure of large proportions in its own right; it's 98 ft wide and 74 ft high, and has 107,000 ft2 of space that will hold a restaurant, two swimming pools and bars, all scheduled to open later this year. It is decorated in a "Mars" motif, reflective of the country's aspirations to explore the red planet. The observation deck covers 16,145 ft2 and offers an indoor lounge and an outdoor see-through terrace. It offers views of the confluence of the Yangtze and Jialing rivers, which come together at the city's Chaotianmen area.
When completely open, the Raffles City complex will offer 1.6 million ft2 of office space, 1,400 residential units, a large shopping complex, a hotel and a major transit hub with access to a ferry terminal and subway and bus stations. An official with CapitaLand, Ltd., the Singapore-based developer, has described its project as "a vertically built riverfront urban district." Vertical transportation was provided by KONE (ELEVATOR WORLD, September 2017).
Escalators, Towers Loom Large in Shenzhen Redevelopment
ArchDaily reported in May that construction kicked off on 10 DESIGN's MixC Market Hall, a mixed-use development for Shenzhen. Located in a former industrial zone of Sungang, it will include two office towers with 102,320 m2 of workspace and 78,890 m2 of retail and dining space. Residential, serviced apartment towers, resettlement housing and public amenities round out the master plan. Completion is scheduled for the third quarter of 2022.
Get more of Elevator World. Sign up for our free e-newsletter.