News from New York YIMBY: Business is brisk throughout the boroughs.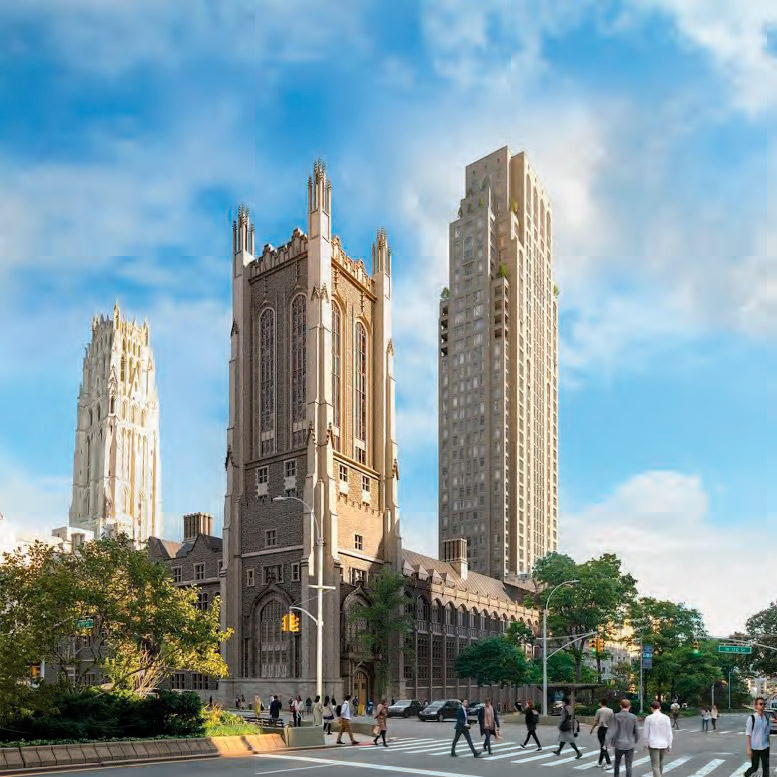 NoMad's New Tallest Residential Skyscraper Nearly Complete
Madison House, at 805 ft and 62 stories the tallest skyscraper in Manhattan's NoMad neighborhood, is nearly complete, with only the lower floors yet to be clad in a white curtain wall, the source reported in June. Also known as 15 East 30th Street, the tower at 126 Madison Avenue will contain 199 condominiums and 7,500 ft2 of ground-level retail. The design by Handel Architects features "sleek lines and etched panels between floor-to-ceiling glass." Fosun Group and JD Carlisle are the developers, and Douglas Elliman is handing sales and marketing. Completion is anticipated by early 2021.
Escalators in Spotlight in Rockefeller Plaza Renderings
Escalators figure big in new renderings revealed by the source showing the next phase of renovations at 45 Rockefeller Plaza in Midtown Manhattan. Images by architect Gabellini Sheppard Associates, which conceived the master plan for property owner Tishman Speyer, show the east lobby with a bank of escalators as the centerpiece. Envisioned elsewhere in the east lobby are recessed lighting systems, an artistic background wall, seating behind the reception area, illuminated windows, mirrored paneling and refinished terrazzo floors. Upgrades to the raised mezzanine include new lighting below an existing sculpture by Michio Ihara. The Landmarks Preservation Commission was set to review the plan on June 23.
Exterior Façade Reaches Crown of 200 Amsterdam Avenue
The exterior façade has reached the crown of 200 Amsterdam Avenue (ELEVATOR WORLD, October 2019 and September 2016), the tallest building on NYC's Upper West Side, the source reported in June. Nearly all of the reinforced concrete wall on the building's west elevation has been enclosed in curtain wall, and glass panels have begun to appear on the crown. Construction crews had only four or five stories yet to cover with cladding. The 52-story, 283,000-ft2 project is being developed by SJP Properties and Mitsui Fudosan America. It was designed by Elkus Manfredi Architects, with
CetraRuddy handling interior design. Most of 200 Amsterdam's east- and south-facing units will have views of Central Park and Midtown, while those facing north and west have views looking up the Hudson River toward the upper tip of Manhattan. Progress on the tower has been steady despite opposition by civic organizations and a court ruling that could call for a reduction of at least 20 floors. Developers are in the process of appealing the decision to deconstruct the upper levels. The building is scheduled to be finished sometime this year.
Site Cleared for Morningside Heights Mixed-Use Tower
Demolition appears to be complete on a site in Morningside Heights, clearing the way for construction to start on a 42-story mixed-use tower, the source reported in June. The tower, at 3401 Broadway (EW, March 2019), will hold condominiums, as well as institutional offices, classrooms and faculty housing for the Union Theological Seminary. With a design from Robert A.M. Stern Architects, the tower is being developed by L&M Development Partners. The developer purchased air rights for the skyscraper from the seminary and began demolition in October 2019. The site, also known as 100 Claremont Avenue, is just off Broadway between West 120th Street and West 122nd Street.
The building design echoes classic prewar NYC style, with upper levels featuring several setbacks topped with private outdoor terraces and a crown with a flat roof parapet. The curtain wall is lined with an even grid of windows, and it appears that the building will be clad in light-colored limestone. Renderings also show stacked corner balconies on the slimmer southern profile. A completion date has not been announced.
Façade Nearly Complete on Virgin Hotel in NoMad
Façade work was nearing completion on the Virgin Hotel at 1225 Broadway at the intersection of Broadway and West 30th Street in the NoMad neighborhood in May. Designed by Stantec and developed by Lam Group, the 38-story, 476-ft-tall structure will yield 300,000 ft2 with 460 hotel rooms (EW, April 2015 and November 2018). The first Virgin Hotel in NYC, it is clad in a glass curtain wall. Despite minimal exterior progress in the first part of this year, the exterior hoist has been replaced with the gleaming façade. Some additional structure assembly is also evident in the steel podium. This lower section will likely be the final part of the edifice to be enclosed, the source noted. Though a revised completion date has yet to be announced, one in 2021 is expected.
Look Revealed for 35-Story High-End Condo Tower
The first rendering of 200 East 83rd Street, a 449-ft-tall residential tower from Robert A.M. Stern for Manhattan's Upper East Side, has been revealed, the source reported in May. Developed by Naftali Group, the structure is to rise 35 stories and contain 86 units. In familiar Stern-interpreted prewar NYC style, the slender, setback tower features a pale limestone and precast concrete façade. Condominiums will average 2,393 ft2 apiece, and two sets of loggias are interspersed throughout the grid of windows on the podium and tower. There will also be ground-floor retail with frontage on both Third Avenue and East 83rd Street. SLCE Architects is the architect of record for the project, which is slated to contain 243,128 ft2 and 26 enclosed parking spaces.
Exterior Done on Condo Tower in Morningside Heights
Exterior construction has completed on Vandewater (EW, May 2017), a residential building at 543 West 122nd Street in NYC's Morningside Heights neighborhood, the source reported on June 7. Standing 385 ft tall, the structure will house 183 condominium units. Prices will start at US$920,000 for a studio and go up to US$6 million for a four-bedroom unit. The tower, located between Broadway and Amsterdam Avenue, is near Riverside Church, Riverside Park and Columbia University. The closest subway station is the 125th Street station, serviced by the 1 train, two blocks to the north. Though the building is fully clad in its Art Deco-inspired curtain wall, interior work was continuing at the 33-story tower. Closings are expected to begin this summer, with the building being ready for move-in early next year.
Construction Wraps on Upper West Side Residential Tower
Construction work has completed on The Park Loggia, a 416-ft-tall residential skyscraper on NYC's Upper West Side, the source reported in June. The 33-story reinforced concrete structure at 15 West 61st Street, developed by AvalonBay Communities, was designed by Skidmore Owings & Merrill in a Brutalist-inspired style, with a grid of windows and corner terraces rising up the southern elevation. It totals 236,532 ft2 of residential space divided among 160 condominium units that start at just under US$1.5 million. Amenities include a staffed lobby, a concierge, a fulltime doorman, bicycle storage, a swimming pool, a rooftop terrace, a business center and more. Residents began occupying the building in fall 2019. It stands a short walk from the 59th Street-Columbus Circle subway station, which services the A, B, C, D and 1 trains.
Get more of Elevator World. Sign up for our free e-newsletter.