Remarkable skyscrapers and their remarkable elevators distinguish Big Apple happenings
United Cabs Restructures, Expands and Taps a Leader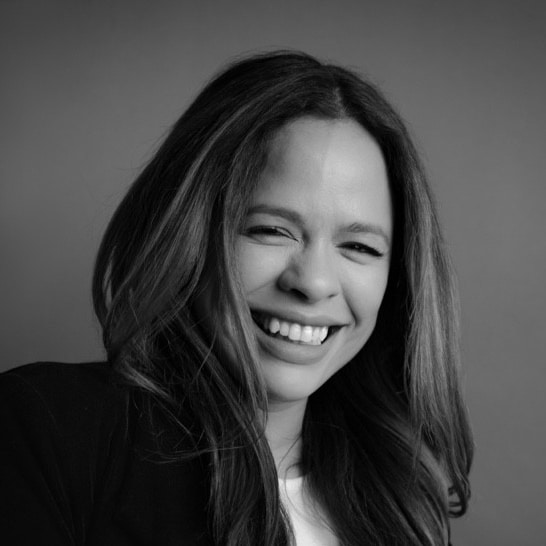 A new entity, United Vertical Group, has been formed to represent United Cabs Inc.'s elevator cab products and United Metals Corp.'s hoistway entrance products, United Cabs announced in May. At the same time, the Long Island-based company announced Laureen Rios as president of United Vertical Group. The restructuring comes in tandem with United Cabs' recent move into a 35,000-ft2 space, which is being outfitted with more than US$1 million in new machinery. The company stated the restructuring and physical expansion promise to enhance customer service and facilitate growth in a competitive market.
Rios has more than 17 years' experience in the elevator industry and has handled "virtually every situation" with vendors, colleagues and clients. She is highly regarded among elevator contractors and consultants, according to United Cabs, whose founder and CEO Victor Rosario said:
"This is a momentous time for our company. We've worked with Laureen for a long time and have always had tremendous respect for her. She's going to be an important leader for us as we continue to grow."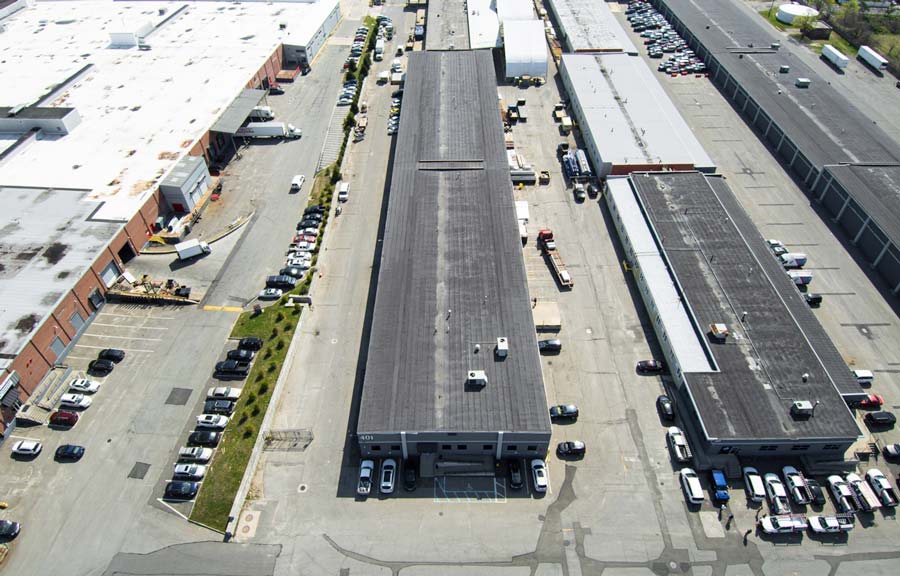 Summit One Vanderbilt Observatory With Glass Elevator to Debut
Summit One Vanderbilt, an observatory in the crown of the new 1,401-ft-tall One Vanderbilt office supertall in Midtown Manhattan (ELEVATOR WORLD, August 2019), is set to open on October 21, developer SL Green announced in May. Described as a multisensory, immersive experience, the attraction includes an all-glass elevator system called Ascent that travels up the outside of the building and provides "breathtaking" views of NYC from 1,210 ft up. Robert Schiffer, managing director at SL Green, told EW that Cimolai Technology Spa of Italy manufactured the lift's rack-and-pinion system and drive, and Wittur designed its cabs. In addition to the glass elevator, Summit One Vanderbilt will boast Levitation — transparent glass sky boxes jutting out over the city, suspending guests 1,063 ft above Madison Avenue, as well as an outdoor bar, seating areas and the "highest urban outdoor alpine meadow in the world." A "category-breaking immersive art installation" by Kenzo Digital, set to debut this summer, will incorporate materials, light, sound, production and animation to provide an immersive experience. Snøhetta designed the interior of Summit One Vanderbilt's 65,000-ft2, four-level entertainment space. Food and beverage offerings by Danny Meyer's Union Square Events will "combine global flavors with NYC influences."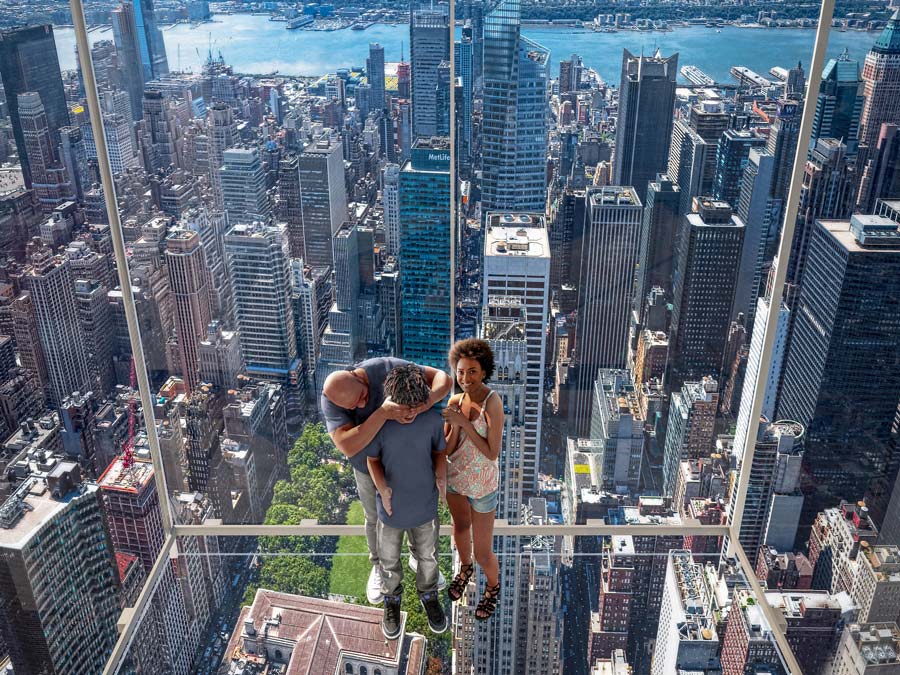 As recreation and tourism rebound in the city, SL Green said it invested heavily in both sustainability and public safety. Summit One Vanderbilt has been outfitted with UV-C light sanitation and MERV-16 air filtration, as well as high-efficiency particulate-absorbing filters.
Fujitec Elevators for 847-Ft-Tall Midtown East Skyscraper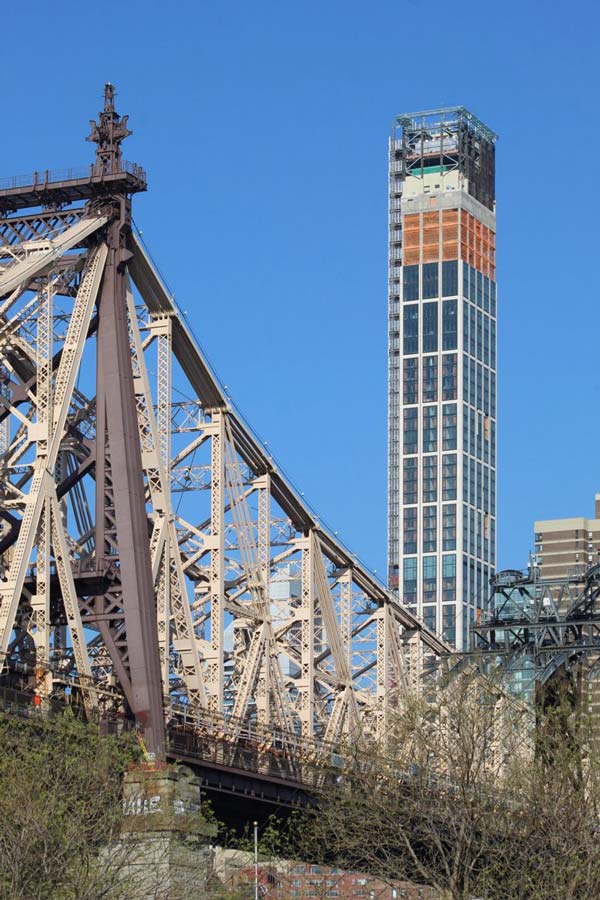 Fujitec provided the elevators that will serve 3 Sutton Place, an 847-ft-tall skyscraper at 430 East 58th Street in Midtown East (EW, November 2020). In May, according to New York YIMBY, the elevator hoist was still attached to the southern elevation as installation of the warm-colored stone and glass curtain wall neared the top. Designed by Thomas Juul-Hansen and developed by Gamma Real Estate, the 62-story tower will offer 121 residential units boasting views of the Manhattan skyline and the East River, along which it "makes a dramatic impact, especially when seen with the nearby surge of new residential construction across the river in Hunters Point South and Greenpoint." The source anticipates completion by late 2021 or early 2022.
"State-of-the-Art" TKE Elevators for Midtown Office Tower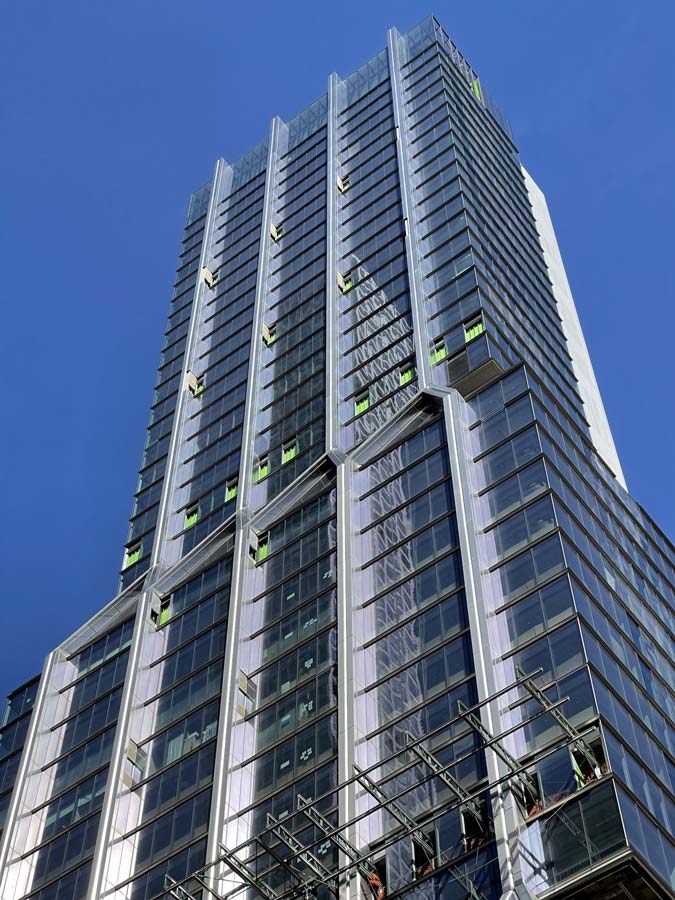 An elevator system described as "state of the art" by New York YIMBY was provided by TKE at 425 Park Avenue in Midtown East, a 47-story office building designed by Lord Norman Foster of Foster + Partners (most recently in EW, February 2019). In May, the source said the crane and exterior hoist had been disassembled as the final pieces of glass curtain wall and gray paneling were installed. The building features a 45-ft-tall lobby with stone floors and interior glass walls that TKE Operations Manager John Rose described as "one of the nicest lobbies around." TKE worked with general contractor Tishman Speyer on the project for developers L&L Holding Co., Tokyu Land Corp. and BentallGreenOak. Expected to achieve LEED Gold and the city's first WELL certification, 425 Park Avenue is slated for completion by the end of the year.
Macy's Advances Plan to Build Tower Above Herald Square Store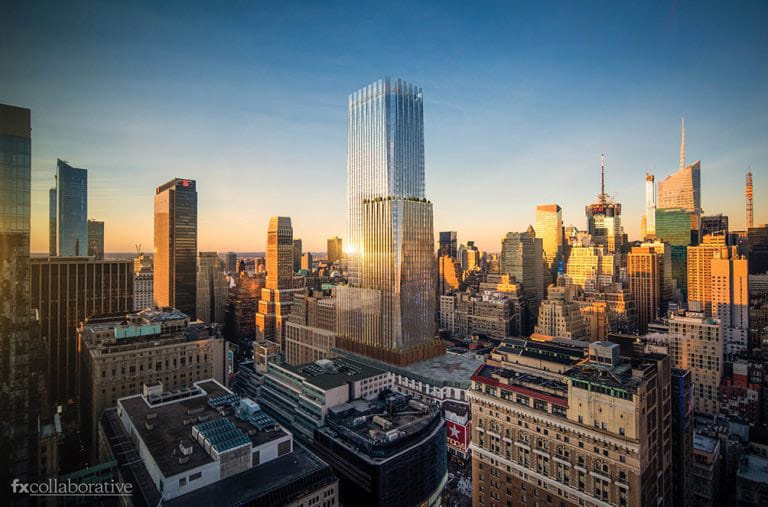 In May, Macy's advanced its plan to build a giant office tower atop its NYC Herald Square flagship store by announcing it would spend US$235 million to upgrade transit infrastructure at the site and create other public amenities, according to the New York Post. The tower plan was originally announced in February 2020 but put on the backburner due to the pandemic. The tower needs City Hall's green light for a zoning change for its size and height — 1.5 million ft2 of office space and 750 to 900 ft tall, according to plans shown earlier. The tower would generate US$269 million annually in new tax revenue, support 16,290 jobs and spark US$4.29 billion in annual economic output, according to the company. The public benefits package would transform the Herald Square and Broadway plaza into a car-free pedestrian zone, ease pedestrian access at Broadway and 34th Street, create new entrances to Herald Square subway station and add a new gateway entrance to the station at Greeley Square. Macy's didn't say how soon the tower plan would begin its Uniform Land Use Review Procedure, nor did it name a development partner. The store will remain open during construction.
New Renderings Released For Dual-Skyscraper Development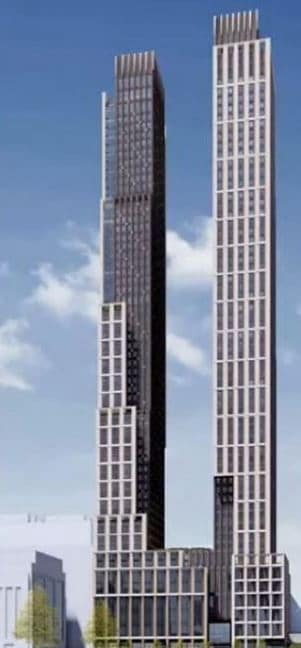 Planners have revealed new renderings for 495 11th Avenue, a pair of residential skyscrapers in Midtown Manhattan, New York YIMBY reported in April. Located between West 39th and 40th Streets, the two towers will stand 680 ft tall and 57 stories, and 653 ft tall and 56 stories. FXCollaborative and Gwathmey Siegal Kaufman Architects are the designers. A multistory podium features a grid of large windows and light-colored panels, which seem to continue upward across various elevations of the two superstructures. New square footage of the interior programming are as follows: 275 residential units totaling 236,699 ft2; 75 supportive housing units measuring 48,655 ft2; and a hotel, offices and retail space adding up to 296,247 ft2.
The project was initially announced in 2017 by The NYC Economic Development Corp. and called for a 49-story, 100% affordable housing project. By 2019, the project was split into two buildings, with height slightly increased to 560 ft. A completion date for 2022 was initially set, then revised to 2023.
Hudson Cos., Partner Plan Upper East Side Tower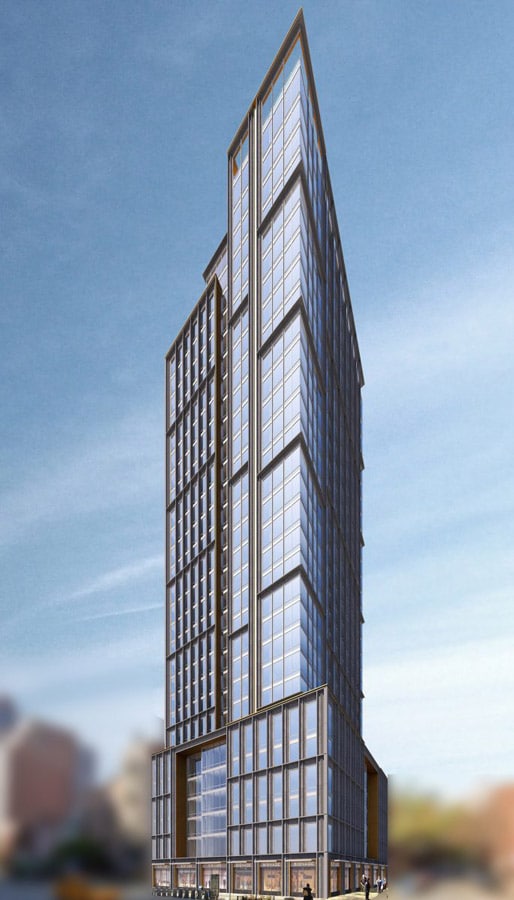 Hudson Cos. and South Korean developer Evalon Co. have entered into a partnership to build a 31-story condominium tower on Manhattan's Upper East Side neighborhood, New York YIMBY reported in May. With mostly one- and two-bedroom units, the development, which has not disclosed an address, promises a number of amenities and sweeping city views. "This project will create a new standard for luxury living on the Upper East Side, and we are proud to partner with the Evalon Company to bring this vision to life," said David Kramer, president of Hudson Cos.
A rendering by Hill West Architects depicts a boxy massing with a glass façade, a five-story podium with ground-floor commercial space and very few setbacks. The two companies previously teamed up to market Hudson's One Clinton, a 38-story condo development, to Korean buyers. One Clinton is the residential portion of the redevelopment of the Brooklyn Heights branch of the Brooklyn Public Library, which was completed last year. Completion of the new tower is expected in the fourth quarter of 2024.
AEG Introduces Tuition Reimbursement Program
American Elevator Group (AEG), headquartered in NYC, has introduced a tuition reimbursement program for its approximately 650 employees nationwide not covered by a collective bargaining agreement. The initiative aims to deliver the same benefits as those available to employees covered by union-regulated programs. Unveiled in April, the program provides fee reimbursement for up to two classes per semester, with a maximum of US$5,250 for undergraduate students or those in certification programs and US$7,250 for graduate students. "One of the central values of AEG is to invest in its people," said AEG President C. Mark Boelhouwer. "We want to ensure that anyone who chooses to focus on developing their career through education gets the support they need."