TKE acquires Florida company, Jacksonville Riverfront, tower projects and more
TKE Acquires Florida-Based Accurate Elevator
TK Elevator (TKE) announced in June that it has acquired Accurate Elevator, a longtime vertical-transportation (VT) contractor that has provided services in the Florida Keys for many years. Based in Marathon, Florida, Accurate Elevator has focused on new installation, modernization, preventive maintenance and repair services for commercial and residential buildings. All employees from Accurate Elevator will stay on with TKE including John Babbe, previously president and owner. He will now take on the role of operations manager. His wife, Donna Babbe, will serve as office manager. Kevin Lavallee, president and CEO of TKE North America and Australia, praised the long-time VT service provider, saying, "Accurate Elevator has been one of the most reliable elevator companies in the Florida Keys, and we are excited to add them to our expanding TKE family." The acquisition is the fifth North American company purchase for TKE in 2021. In May, the global OEM announced it had acquired Albany Elevator in Albany, New York, and three elevator companies based in Ontario, Canada.
Sales Start for Tallest Miami Beach Building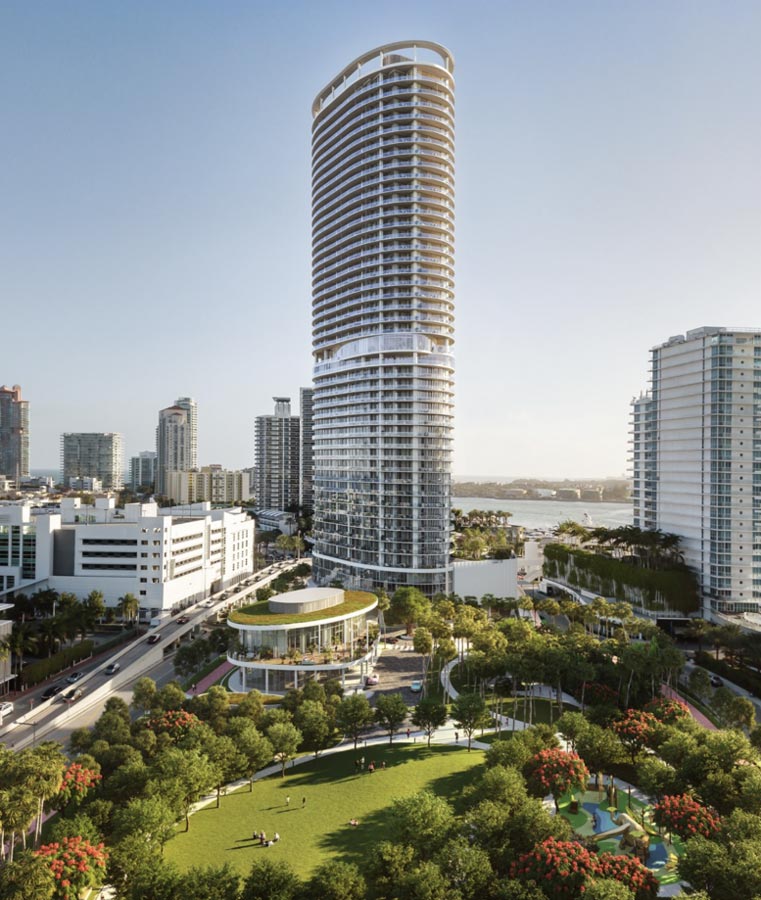 Developers Terra Group and GFO Investments have started sales on their upcoming condo tower named Five Park, a 48-story skyscraper that will soon hold the title of the tallest building in Miami Beach, Florida YIMBY reported in June. Designed by Arquitectonica, with Gabellini Sheppard handling interiors, the development will yield 278 residences and nearly 40,000 ft2 of amenities and is anticipated to rise 519 ft over the entrance to South Beach. The developers recently announced the closing of a US$345-million construction loan from Blackstone and Apollo Global Management, which cleared the way for the rise of Five Park. Ninety-eight condos will have private elevator access, floor-to-ceiling glass windows and sliding doors with amenities such as a pool deck and clubhouse, co-working spaces, charging stations for electric vehicles, a fitness center and spa with treatment rooms, and a pool bar with café. The source reports that groundbreaking has already occurred, and foundation work is underway. The reinforced concrete superstructure should go vertical soon, and completion is scheduled for 2023.
Plans for US$1.1B Jacksonville Riverfront Project Announced
Southeast Development Group recently unveiled the master plan for its upcoming mixed-use megaproject in downtown Jacksonville, which calls for the redevelopment of 25 acres of city-owned land, adding 2.3 million ft2 of new real estate assets within the Central Business District, with an estimated price tag of US$1.1 billion, Florida YIMBY reported in June. Exact heights of the expected 10 buildings are not known, but the source reports that there will be a structure as tall as 27 stories and another as low as 14 stories. The developer is managing the project under a new partnership known as JAX Riverfront LLC, and the plan is expected to yield 755-plus residential units, a 208-key hotel, 330,000 ft2 of modern commercial/office space, 200,000 ft2 of retail and entertainment space and 15-plus acres of public green space. San Francisco-based Gensler has been selected as the design architect, with NELSON Worldwide as the architect of record and SWA Group responsible for landscaping. Construction for Riverfront Jacksonville is anticipated to occur in multiple overlapping phases beginning in 2022, with the first tower reaching completion by 2024 and an estimated overall finish date of late 2026. In total, construction is expected to take as little as five years. Brasfield & Gorrie, Danis and Swinerton are the general contractors.
The US$1.1 billion investment will be funded by a public-private joint venture, with US$536 million coming from public investments and US$559 million from private funds. Jacksonville will see a relatively positive economic impact during construction, as the development will create up to 1,774 jobs over the five-year period and 2,144 permanent jobs once the project is complete, as well as add a significant source of revenue for the city and county. Goldman Sachs and Piper Sandler are behind the financing of the mega project.
Plans for a 39-Story Mixed-Use Tower in Miami Have Been Updated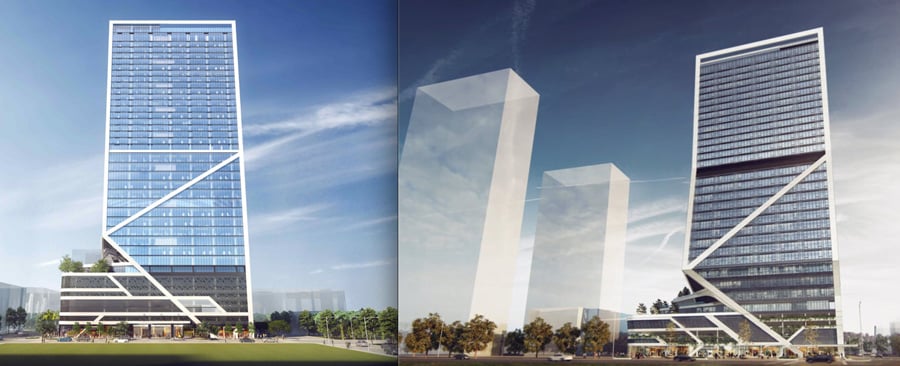 Plans for a 39-story mixed-use development in the Overtown neighborhood in Miami by developer Related Group have been updated, Florida YIMBY reports. Designed by ODP Architecture & Design and tentatively titled Miami Station, the project was originally slated to be a 41-story, 459-ft-tall skyscraper. However, a recent post on ODP's Instagram account shows updates to the building, which is now a planned 39-story, 461-ft-tall tower. The exterior of the building hasn't gone through any major changes. No construction schedule has been announced, though demolition permits will be required for an unfinished five-story parking garage on the northeastern portion of site.
Brickell is Officially a Seller's Market
According to the 2021 South Florida Brickell report by RelatedISG Realty, a general real estate firm based in Aventura with offices throughout Miami-Dade and Broward Counties, the Brickell submarket is officially now a seller's market, Florida YIMBY reports. According to the report, demand has exceeded supply, which currently sits at just 1% of the total units that have been built since 2012, meaning 99% of the units have been sold. As of June 2021, only 53 of the 5,657 units available since 2012 are left in this submarket. These include 48 from the upcoming Una Residences, and the five remaining at Brickell Flatiron. Considering projects like Una Residences and Related's Baccarat Residences won't be complete until at least 2025, there won't be any new inventories, thus transitioning Brickell into a seller's market, at least until new units hit inventory in 2025. The recent sell out of Swire Properties' Reach and Rise Residences at Brickell City Centre, which was brokered by RelatedISG Realty, played a big role in achieving the near 100% sell out of Brickell inventory.
Updated Renderings Released of Miami Development The District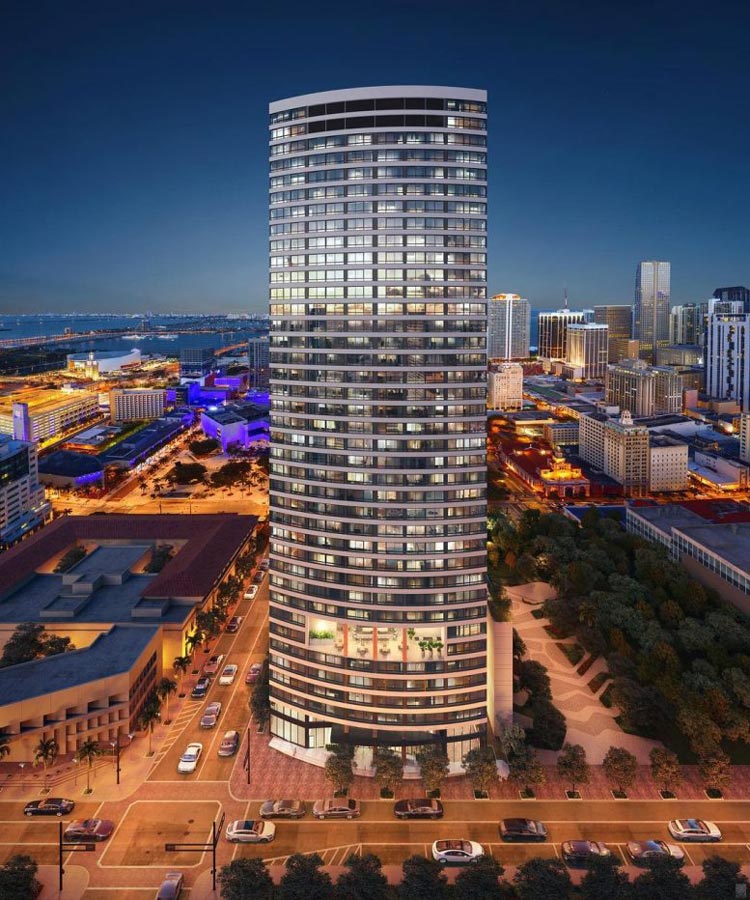 New renderings show The District, a 37-story mixed-use tower in Downtown Miami, with more detail from sunlight and views of Biscayne Bay and Miami Beach, Florida YIMBY reported in June. The 394-ft-tall tower, at 225 North Miami Avenue, is being developed by Related Group and sports a building design by Sieger Suarez Architects. Interiors of the expected 343 residential units will be by the Meshberg Group.
The District is one of several new real estate projects in Downtown Miami to join the short-term rental condo market, which allows buyers to rent out their units through platforms like Airbnb, Vrbo and Flipkey. This is the reasoning for the small size of the units, which start from around 446 ft2. All units will come fully furnished and ready to rent. The building also offers a range of amenities, such as an expansive, resort-style rooftop deck with pool and spa, a fire pit and barbecue and kitchen areas. Demolition permits were approved in October 2020, and the design of the project gained approval in April 2021. Though new construction permits have yet to be sought, it appears that completion can be expected in late 2023.