Otis provides VT, Westbank Campus adds residential tower
Construction on San Francisco Tower Wrapping Up
Construction is wrapping up on 30 Otis Street, SoMa, in San Francisco as the tower is preparing for move-ins later this summer, San Francisco YIMBY reported in June. The SoMa development will add 416 residences to the local housing market, along with retail and an updated home for the City Ballet School. Align Development is the developer, and San Francisco-based Gould Evans Architects is responsible for the design. Once complete, the tower is expected to receive LEED Gold certification for energy-efficient design, such as onsite water treatment and locally sourced material. The 250-ft-tall tower and flanking 85-foot podiums contain nearly 404,790 ft2 of residential space, 11,000 ft2 of amenities, 4,000 ft2 of ground-level retail and 43,350 ft2 for the 71-car garage. There will also be parking for 399 bicycles onsite. Otis is providing vertical transportation (VT), including two fire-service-access elevators (FSAE), one non-FSAE and one freight elevator.
Plans for Residences on Westbank Campus in San Jose Are Revealed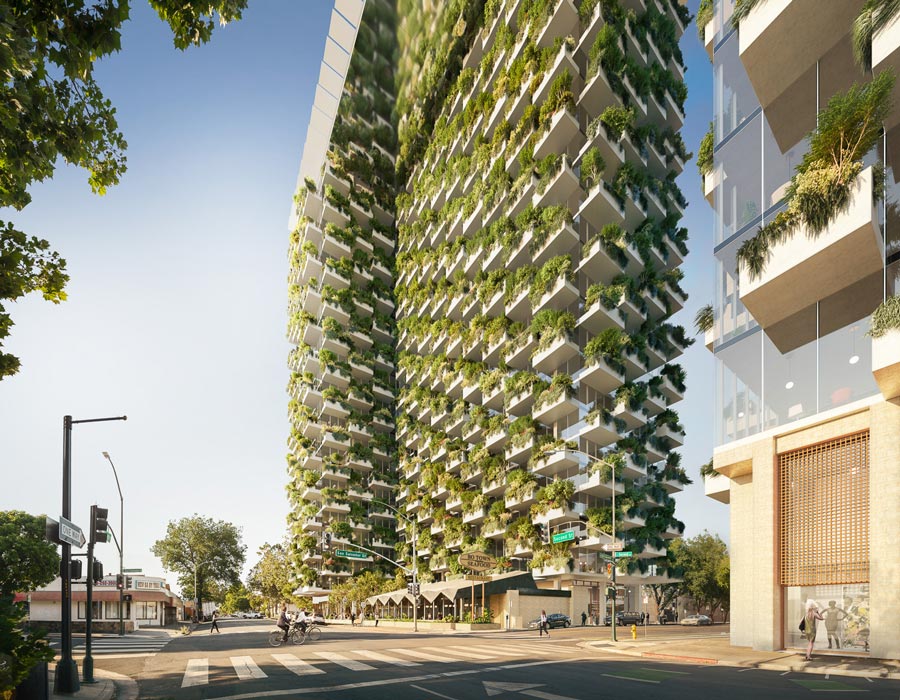 Plans for new residences on Westbank Campus in San Jose have been revealed by James K.M. Cheng Architects, designboom reported in June. Located at 409 South Second Street, the project, named The Orchard, will span two buildings, which, according to renderings, appear to be roughly 26 stories tall and composed primarily of mass timber. The project will also incorporate as much nature as possible into the design, including integrating vegetation into the roofs and façade and a courtyard below a canopy of trees, and is set up to achieve a long-term reduction in greenhouse gas emissions. The building, which was introduced to Westbank Campus to celebrate the culture of the neighborhood, will feature an accompanying workspace designed by WRNS Studio. A completion date was not reported.