High-rise construction continues throughout the city, according to Urban Toronto.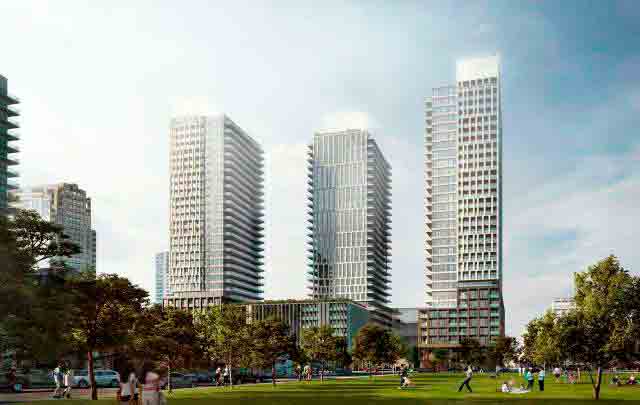 Developer Plans Mixed-Use Tower
Developer QuadReal hopes to build a 64-story mixed-use tower. The structure, which would include office and retail space, would be 298 m tall and cover a gross floor area of 180,259 m2. It would be built on the existing Commerce Court site and require the demolition of the Commerce Court South and East buildings. The project would include parking spaces for 600 cars, plus 722 bicycle spaces, and an addition to Hotel Victoria, which was constructed in 1909.
42-Story Addition Planned Atop Office Building
Developers submitted a rezoning application reported on in January for a proposed 42-story residential addition to an existing 19-story office building. The Marwest Group hopes to place the addition on top of the building at 415 Yonge Street, creating a 61-story tower that would rise to a height of 239.35 m. The addition would bring 450 residential rental units to the area, increasing density along the Yonge subway line. The design would include translucent bands cut through a glass façade on the north and south sides, with an angular vertical design on the east. No balconies or outdoor amenity spaces are included, but the building would have 900 m2 of indoor amenity space. The existing underground parking spaces would be divided between residents and office workers.
Three-Tower Project Proposed
A rezoning request reported on in early January envisions a trio of 30-story residential towers at 1467 Bathurst Street. The plan by developer KingSett Capital would place the towers on a six- and seven-story podium on a lot owned by the adjacent St. Michael's College, a private Catholic boys' school. The development would include 944 apartment units with underground parking for 531 vehicles, and 2,264 m2 of retail space on the ground floor. Designer for the project is Quadrangle, but the source noted that KingSett sometimes engages partners or even sells the site after completing rezoning processes, which could lead to design changes. The lot formerly had a gas station at the corner of Bathurst and St. Claire Avenue, but that structure has been demolished. The rest of the lot has a surface-level parking lot.
Get more of Elevator World. Sign up for our free e-newsletter.