OEM's strength continues in world's largest elevator market.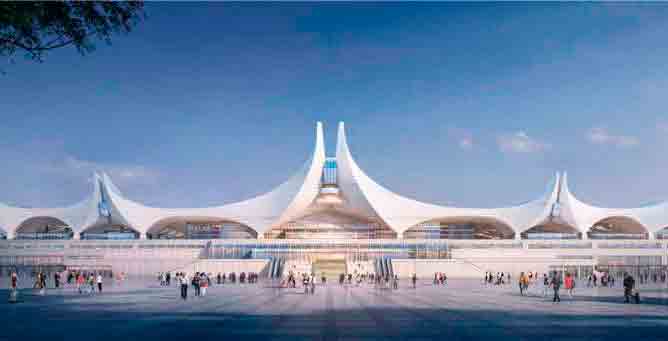 VT for Major Chinese Transportation Projects
KONE has won orders to provide the vertical transportation (VT) for two major infrastructure projects in China, one in Zhengzhou in central China and the other in Qingdao on the east coast. Composed of underground highways, a civic/cultural center and an extension of the city's Metro Line 5, the Zhengzhou project will be served by 79 TransitMasterTM escalators, and 11 MonoSpace® and six MiniSpace® elevators. Designed by Beijing Urban Construction Design & Development Group Co. and developed and built by ZhengZhou Rail Transit Co., the project is scheduled for completion in 2019.
KONE is providing 78 TransitMaster escalators for the new Hong Dao station in Qingdao, the main station of the new Qingdao-Jinan railway line. Developed by The Jinan Qingdao Railway Co. Ltd. and built by China Construction Eighth Engineering Bureau Co., Ltd., the station is expected to be open to the public sometime this year.
108-Unit Order for New Nanjing Landmark
KONE has won an order to supply 108 units to Nanjing Golden Eagle World, an office/hotel/retail development in Nanjing, China, that consists of 76-, 67- and 60-story towers with a base housing Asia's largest shopping center. There will also be a six-story skybridge with restaurants, landscaping and swimming pools. KONE is supplying 14 MonoSpace® and 86 MiniSpaceTM elevators, and eight TravelMasterTM escalators, along with a destination-control system. Expected to be completed in 2019, Nanjing Golden Eagle World is being developed by Golden Eagle Retail Group, built by Shanghai Construction Group and designed by East China Architectural Design Institute (ECADI) and Frederic Rolland Architects. KONE Executive Vice President of Greater China William B. Johnson said the company is proud to be part of a "new landmark in a city that is known as one of the four great ancient capitals of China."
Get more of Elevator World. Sign up for our free e-newsletter.