Promise abounds in Cambodia, Laos and Vietnam.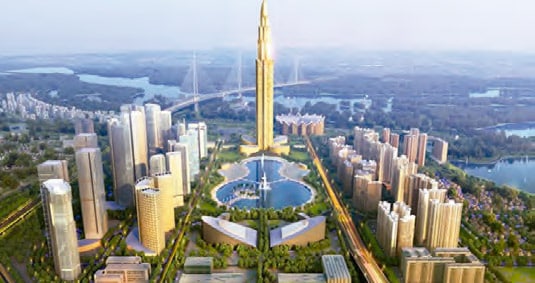 Hitachi
Growing in, Bullish on Cambodia
Hitachi Elevator Cambodia Co. (ELEVATOR WORLD, May 2017) — a joint venture of Japan's Hitachi, Thailand's Siam- Hitachi Elevator Co. and Cambodia's CMED Group Co. — is growing in and bullish on the Cambodian vertical-transportation market as the construction sector booms, the Bangkok Post reported in October. Hitachi Elevator Cambodia plans to sell 150 units in 2020, compared with 50 units its first year (2017) and 100 in 2018 as high-rise buildings multiply. The company aims to capture 25% of the highly competitive market by 2021.
Cambodia's construction sector, which expanded 6-7% annually over the past five years, is fueling growth. Hitachi Elevator Cambodia reports residential projects account for half of sales, casinos, 30% and hotels/resorts, 20%.
Expanding Elevator, Escalator Business in Laos
Hitachi also announced in October that Hitachi Elevator Laos Co., Ltd. has been established and is open for business, Asia One reports. Hitachi Elevator Laos is a joint venture Hitachi established with its elevator design and manufacturing subsidiary in Thailand, Siam-Hitachi Elevator Co., Ltd. and Tangchareon Construction Sole Co., Ltd. It is also the first subsidiary the Hitachi Group established in Laos.
"Smart City" Project Breaks Ground in Hanoi
A 108-story tower is the centerpiece of a massive "smart city" project in Hanoi that broke ground in October, the Council on Tall Buildings and Urban Habitat (CTBUH) reported, citing The Leader. A joint venture between BRG Group and Sumitomo Corp. is undertaking the US$4.2-billion urban planning project in the Vietnamese capital, a development set to cover 272 ha. The project, to be spread across 11 km, will be built in five phases and is expected to be fully complete by 2028. The first phase, a 72-ha development, will include the centerpiece tower, a financial services structure with a lotus design. A new metro line will connect the project with Noi Bai International Airport, with a transit hub serving as a focal point for new hospitals, schools and other facilities.
Limits Brushed Aside for Australian Tower
Height limits have been overturned in an effort to gain a 306-m-tall, 90-story high rise in Parramatta, Australia's second central business district. The Daily Telegraph reported in May that New South Wales Planning Minister Rob Stokes lifted the 300-m limit in response to a request from the city council. However, developer Aspire still needs approval from the federal aviation regulator before construction.
The tower would include 700 apartments, 150 hotel rooms and a retail precinct as the center of the 3-ha, AUD2-billion (US$1.52-billion) Parramatta Square urban- renewal project. It would also include the tallest public viewing platform in the Southern Hemisphere. "It will herald the creation of a modern architectural skyline, defining Parramatta's role as Western Sydney's capital," Stokes said.
Get more of Elevator World. Sign up for our free e-newsletter.