Transitions and accolades around the world make for busy months.

Peelle Announces Personnel Moves
The Peelle Co. announced several personnel moves in September and October:
Michael Coyle has joined the company as Sales and Operations manager, overseeing the office, field and sales staff, and is responsible for safety programs, education and communication with local AHJs and elevator stakeholders. Coyle is a third-generation elevator person and, along with his family, started Colonial Elevator Corp. in 1994. In 2012, they merged with Consolidated Elevator, where he held the title of vice president of operations. In 2015, he joined D&D Elevator in Elmsford, New York, as a sales representative, surveying, pricing, selling and managing modernizations, maintenance agreements, repairs and violations. He is a certified QEI elevator inspector and is working toward his NYC inspector's license.
Harmon Gill has been promoted to production manager. Responsibilities include oversight of all production departments: shipping, manufacturing, electrical and paint line. He also manages staff in various departments as required. Gill began at Peelle in January 2018 as programming engineer, programming lasers, handling inventory management and sheet-steel ordering. He redesigned all shipping skids and the plant layout, increasing the size for passenger – door production, and oversaw the purchase of a new fiber laser.
Vesna Jovicic has been promoted to plant manager. Jovicic started her career at Peelle in October 2012 as a lean-manufacturing manager and health & safety coordinator. In her new role, she coordinates, assigns and reviews the work of factory departments, reviews workflow, establishes work schedules and arranges training.
Samuel Macherzynski has also been promoted to production manager. In this role, he supervises and coordinates shipping, receiving, parts, production, inventory and dispatching activities. His five key responsibilities are operations management, programming of laser and computer numerical controlled press break, operations reporting, operational improvement and purchasing. He previously worked for a construction firm building and servicing manufacturing facilities in both Vancouver and Toronto. Macherzynski began his career at Peelle in 2017 as a production coordinator within the Project Management team.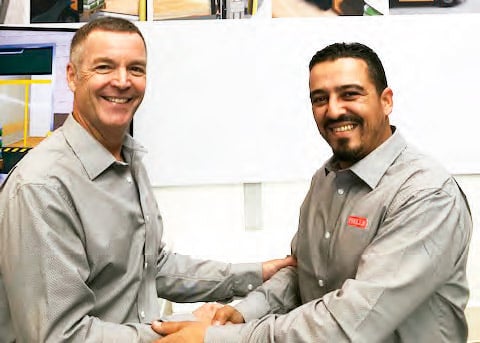 Peelle assigned Hafid Azzahafi as its manufacturers representative for the Middle East market. Azzahafi will handle sales, technical support, training and commissioning of the company's products from his office in Dubai. Vice President of Business Development Michael J. Ryan will support him from the Peelle New York office in relation to freight elevator stakeholders and project prospecting, trade events and sales visits. President Hank E. Peelle, III added that Azzahafi will also be supported by Peelle's engineering, project management and technical support teams.
Liftinstituut Enters Finnish Market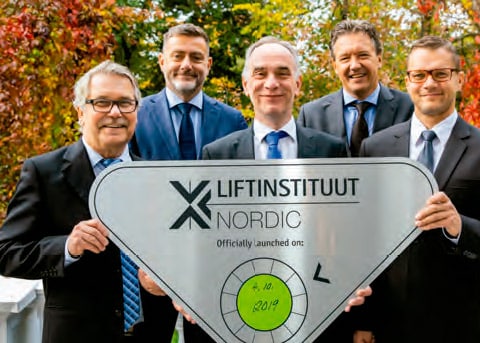 Liftinstituut Nordic has entered the Finnish market and will offer elevator inspections according to local and European laws, the company announced in October. The new office in Helsinki will be under Finnish management and part of the international Liftinstituut network, which includes offices in Amsterdam, Dubai, Dublin, Istanbul, Singapore and the Caribbean. Marco Waagmeester, managing director of Liftinstituut Holding, said, "We are proud that we can now place a spotlight on elevator safety in Finland, too, with a strong local partner."
IMEM Lifts Appoints New Department Director
IMEM Lifts of Cantabria, Spain, recently announced the appointment of Daniel Williamson as director of international business development and the export department. In this role, Williamson will support IMEM's current expansion plan to develop its export market, which ships to more than 60 countries. He will manage the growing sales team and global business
relations for the company. Williamson brings years of sales, marketing and construction management experience to the role. "I'm excited to be joining the IMEM Lifts leadership team for international growth," Williamson said. "IMEM Lifts has proven itself to be one of the most respected companies in the lift industry, and I'm looking forward to helping grow the business even further."
EHC Names Altmişdört to Lead Turkey Operation
Oshawa, Canada-based EHC Global, a maker of escalator handrails and other components, has named H. Eren Altmişdört to the newly created role of general manager, EHC Turkey. Based in Istanbul, Altmişdört will report to Norman Rosnersky, EHC managing director for Europe, Middle East and Africa (EMEA).
"We are very pleased to welcome Eren to the EHC team as we continue to invest in our local presence, sales and customer service infrastructure in Turkey and in other strategic markets throughout the EMEA Region and around the world," Rosnersky said. "In his new role, Eren will manage EHC's operations in Turkey and will lead the implementation of EHC's strategic corporate goals and strategies throughout Turkey and neighboring markets."
Altmişdört comes to EHC with more than 35 years of sales and management experience. He holds a bachelor's degree in Business Administration from Istanbul University in Turkey.
KONE Honored for Corporate Excellence, Sustainability
KONE, in an honor recognizing it as one of Asia's best- performing companies, has received the Asia Corporate Excellence & Sustainability (ACES) Award, Manufacturing Global reported in September. The award recognizes high-performing enterprises that have shown growth in revenue and are focused on connecting with consumers in seizing business opportunities. In announcing the award, organizers said KONE's ability to present sustainable solutions to modern-day problems has given the company a competitive edge that has been propelling its growth in the Asia-Pacific region, one of its fastest-growing markets.
"It's a great honor and privilege for us to receive this award, and this is a testament of our commitment towards innovation and delivering value for our customers," said Axel Berkling, executive vice president, Asia-Pacific, KONE, of the ACES Award.
Orbitz Elevators' Dwayre Snags Top Young Entrepreneur Honor
Jonathan Dwayre, who founded Gold Coast, Australia-based Orbitz Elevators in 2015, received the top award at the Gold Coast Young Entrepreneur Awards 2019 at a gala held at QT Gold Coast in Surfers Paradise on September 27, Business News Australia reported. Judges pointed to "exceptional year-on-year growth and massive job creation" at Orbitz, which now has more than 85 employees and branches
in Brisbane, Sunshine Coast, Sydney, Melbourne, Perth and Port Moresby, Australia; and Papua, New Guinea. Future plans include expansion into New Zealand and the U.K. Dwayre learned the industry while working for his father's U.K. elevator-servicing business. He attributes Orbitz's success to identifying "gaps in the market in customer service, flexibility and asset reliability."
SHIROKANE The SKY Complex Under Construction in Tokyo
Three condominium towers in Tokyo are under construction, and sales were set to start in mid-November, the Council on Tall Buildings and Urban Habitat reported in October. The east tower of the complex, called SHIROKANE The SKY, will rise 45 stories and 156 m above ground. It will yield 1,247 units and a penthouse valued at JPY500 million
(US$4.7 million). The west tower will be a 19-story building, and a separate, low-rise building will also house a medical facility.