Blain Hydraulics Opens Shanghai Location
Blain Hydraulics GmbH has opened a location in Shanghai to expand its footprint in China, the company announced in January. The move came within five years of the German supplier expanding in India, Turkey, Brazil and the U.S. Marking 50 years in business in 2021, Blain aims "to expand further and tap the hydraulic elevator segment in China and East Asia, facilitating the availability of products, spare parts, technical support and hydraulic elevator planning and consulting services to OEMs and other lift companies locally." The new location is in Suite 12C, Huibao Plaza, Hunan Road, 2633 Pudong, Shanghai 201315 and can be reached at phone: 86-21-6803-6528.
Hitachi Elevator (China) Celebrates 25th Anniversary
A number of trade associations and government representatives gathered in Guangzhou in December 2020 to celebrate the 25th anniversary of Hitachi Elevator (China), Yahoo Finance reported. Zhang Daoquan, deputy director of Guangzhou's State Assets Supervision and Administration Commission, praised the company, noting that China and Japan have cooperated to promote Hitachi Elevator's growth, which has brought economic benefits, promoted China's technological development in areas such as elevators and touch panels, and helped upgrade Guangzhou's industrial structure. He said that joint efforts have allowed locally based businesses, such as Guangzhou Intelligent Equipment Group, to become national leaders in the country. During the ceremony, Hitachi Elevator was observed to have made strides in industrial layout, operation technology and IT to fuel the company's growth. It created a network of five elevator factories and two parts factories in the cities of Guangzhou, Shanghai, Tianjin and Chengdu; achieved 100% IoT production; and implemented product lifecycle management. The company was also lauded for launching the first postdoctoral program in Guangzhou, and building one of the world's tallest test towers, the H1 Tower, which stands 273.8 m above ground, with another 15 m below ground.
Hitachi Elevator (China) President Jia Yuhui said that, moving forward, the company will increase its focus on IoT and AI in the aftersales market and will work with partners to promote smart buildings with a goal of making urbanization more sustainable.
ZHA Wins Design Competition for Shenzhen Tower Project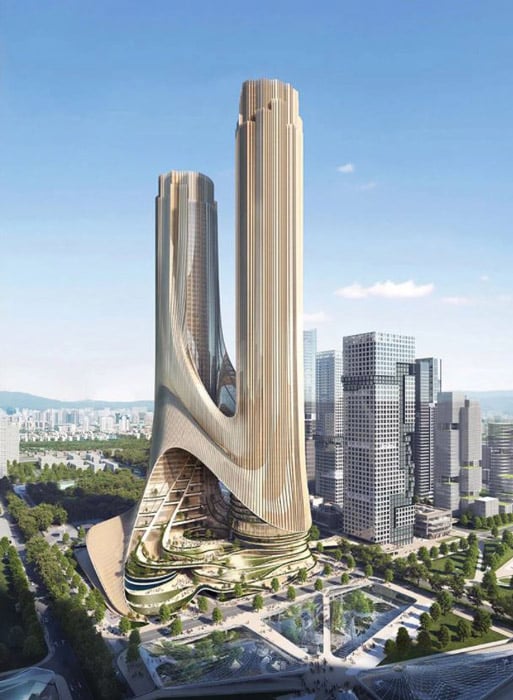 Zaha Hadid Architects (ZHA) has won a competition to design Tower C, a stunning twin tower building at Shenzhen Bay Super Headquarters, designboom reported in January. Tower C, which will integrate clusters of corporate headquarters serving Guangdong, Hong Kong and Macau, will accommodate 300,000 employees each day and include venues for conferences, exhibitions and other cultural programming. The project's design will create a "multidimensional vertical city," with the taller tower reaching supertall status at nearly 400 m tall. The towers will be column-free with naturally-lit office space, shopping, entertainment, and dining amenities, a hotel, a convention center and cultural facilities with exhibition galleries. The exterior will have a double-insulated glass curtain wall designed to draw in outside air to reduce energy consumption.
The project will also have residential developments, a transporation center, botanical grasslands and a coastal zone with wetlands. Tower C will be at an intersection of Shenzhen's north-south green axis and east-west urban corridor. The tower's stepped podium will integrate with an adjacent park to create new public space that will prioritize pedestrians, while offering extensive bicycle parking and charging facilities.
Get more of Elevator World. Sign up for our free e-newsletter.