Young, Smart and Focused on Growth
Element Elevators has forged strong relationships as it aims to expand throughout Canada and beyond.
The first time your author heard about Element Elevators Inc. was in spring 2021 when its Vice President of Operations Bogdan Rus sent a press release about a very cool project: The 5-year-old, Richmond Hill, Canada-based company was modernizing a system that includes a pair of 1970s-era cylindrical, panoramic elevators in the Toronto Reference Library (TRL) that feature prominently in a music video by pop star The Weeknd. In the video for "Secrets," the singer uses the striking architecture of the library as the backdrop for a story about infidelity. The artist and other actors ride the bright red, silver-accented glass elevators, gliding up and down to the beat of the music.
"Element was essentially created to be a family company that has the appearance and feel of a large corporation." — Element Elevators Vice President of Operations Bogdan Rus
Further research reveals additional cool things about Element. If you see a picture of Rus, he is more than likely posing in a carefully curated outfit (such as a tux) with props — a hardhat, a wrench, a champagne glass. Its Vice President of Sales Olanzo Jarrett was a Canadian football champion. Element's vision for a green future comes with a fleet of Teslas, and plans to provide Tesla Cybertrucks — all-electric, battery-powered, heavy-duty vehicles that look like they are straight out of the 1982 movie Blade Runner. The list goes on.
"Being pretty young — only 30 — I grew up in the eco-friendly generation and one where I watched Apple and Coca-Cola grow into trillion-dollar corporations," Rus says. "Inspired by the likes of Steve Jobs and Elon Musk, I really feel that marketing and corporate image is vital to succeeding in any business." Behind that image is a thoughtful and proud family (both blood relatives and otherwise) with decades of combined elevator industry experience and a focus on innovation, building relationships, standing out and driving growth.
Origins of an Independent
Florin Rus and his son, Bogdan, decided to break away from their OEM careers in 2016, believing "the Toronto elevator industry was overdue for a change." On its website, created by Bogdan, the company states:
"They [father and son] put their knowledge and expertise together to build a new, independent elevator company. They decided to focus on the things that mattered most. . .like communication, quality, cost and trust. These values lay the foundational core beliefs that have driven Element to become the successful company it is today."
Using non-proprietary components, the company provides maintenance, modernization, repairs and testing. It can also handle new construction, but its specialty is modernization. Bogdan Rus estimates Element has done approximately 150 modernizations since its founding. The team consists of 16 employees, including company leaders:
President Lucy Rus, who is Florin's wife and has experience in financing and human resources. As president, she focuses on customer satisfaction and building long-term relationships with clients, developers and suppliers.
Bogdan Rus, who has held both office and field positions at companies including KONE and TK Elevator (TKE). He oversees day-to-day activities and provides input on big-picture items. He holds a degree in computer science and economics from York University in Toronto and Concordia University in Montreal, respectively, and earned his Elevating Devices Mechanic (EDM)-A license from Durham College in Oshawa. Bogdan Rus is chairman of the Program Advisory Committee at Durham College. 
Service Director Florin Rus, who has significant international field experience. As an adjuster and installer, he has installed, inspected and tested thousands of elevators and has worked internationally for KONE and locally for TKE in various positions.
Jarrett, who, after a Canadian Football League career that included being part of the 2003 Grey Cup Championship team, became a successful marketing consultant and sales agent for several multinational corporations before being hired by Element.
Senior Project Manager Tom McCorkell, who has decades of experience working on elevators both nationally and internationally. In his previous roles, McCorkell worked with international elevator consultancies "providing vital information and direction to clients, contractors and engineers alike," according to Element.
It's not just clients the company focuses on. Supplier relationships have been key to company growth. Bogdan Rus says:
"Since Element has now been around for a few years, we've developed vital relationships with many of our suppliers, including MAD, Dupar, GAL/Hollister-Whitney, Smartrise, MCE, iTi and many others. Element's project management focuses on understanding product design and construction with significant attention to code requirements. This not only helps our suppliers communicate easily with our teams, but ultimately reduces situations in which our technicians or supervisors need to get involved."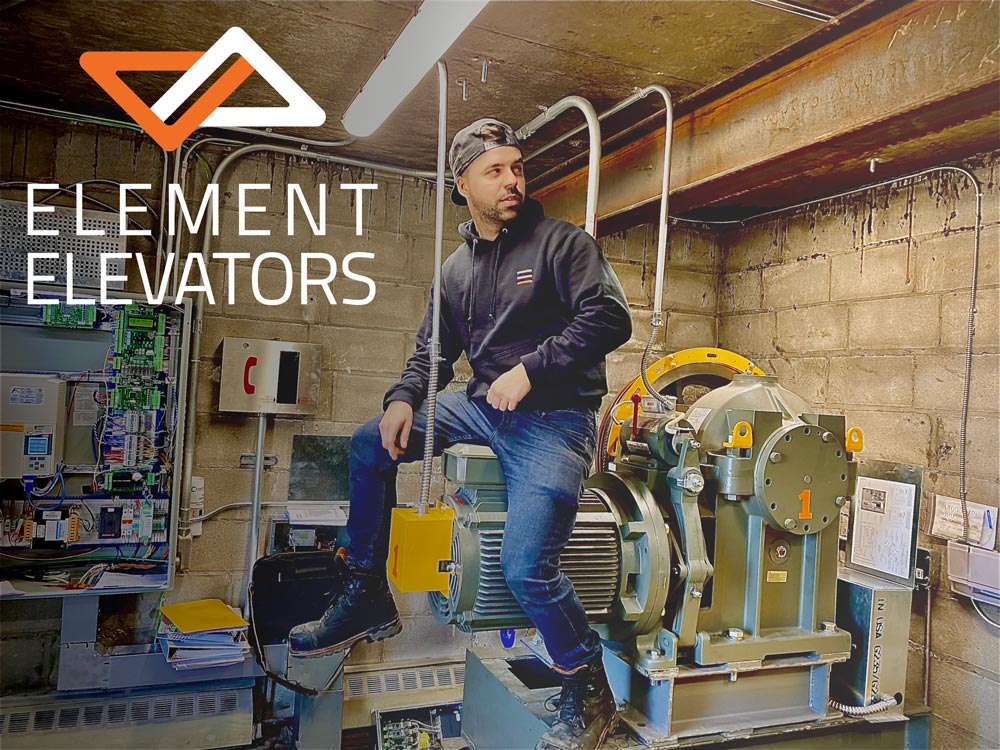 Elevator Modernization at an Iconic Building
In August 2021, Element was roughly halfway done with modernizing the second of two of The Weeknd elevators — part of a four-elevator modernization job awarded to the company by the City of Toronto in fall 2020. The units serve what is one of the most iconic buildings in the city: The TRL at Yonge Street and Asquith Avenue in the Yorkville neighborhood. Designed by Raymond Moriyama in a style all its own that echoes both Brutalist and futuristic Googie style, the five-double-story, 39,626-m2 building opened in 1977 and is the largest in the Toronto Public Library system. Thanks to its striking interior design, it's been the scene of weddings and other events. Like the designs of the late John Portman, the TRL incorporates a soaring atrium and live plantings that echo the Hanging Gardens of Babylon. It was the setting for a crucial scene in the graphic novel Scott Pilgrim Vs. the World, although that scene failed to make it into the movie.[1]
During the height of the pandemic, "the building was essentially shut down and only recently started to reopen," says Rus. "We worked throughout that period." Incorporating Dupar fixtures, the library job also entails modernizing a 3500-lb-capacity, 250 ft/min, geared-traction service elevator installed in 1977 (when the library opened) by Armor and modernized in the early 2000s with an MCE 1000 controller. Substantial completion of the latest elevator upgrades should be happening about now (in October). "Once complete, the TRL will be one of Element's 'showcase' sites, along with a few other notable ones including our beautiful destination-dispatch system at 50 Queen Street, the first of its kind in Kitchener," Rus says.
Other recent Element jobs include a five-car modernization at the Ministry of Transportation office building in North York, Ontario, and a 911 dispatch center in Toronto, where the company installed the first Hollister-Whitney GT31 (geared traction) machines in Canada. "We purchased about 10 of those machines in one shot, before they were even officially out on the market," says Rus.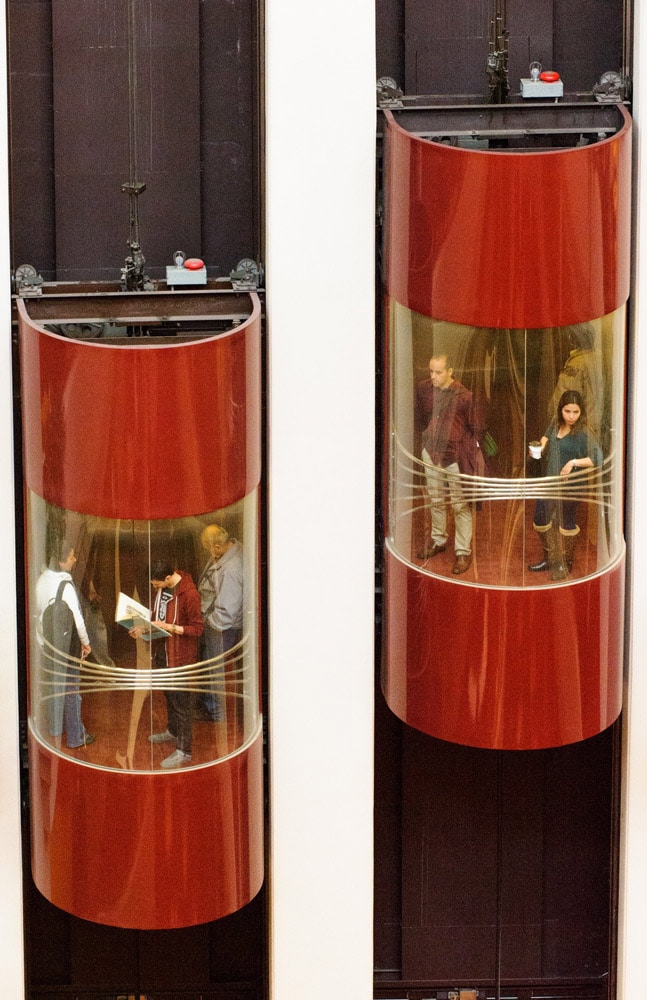 Future Plans Are Big
Due to pandemic-related shutdowns, 2020 was a year of very little growth for the company, he says, but 2021 has been Element's busiest year yet. "Essentially, all the sales that were supposed to happen in 2020 were pushed to 2021," Rus says. "We picked up another dozen modernization projects in the first quarter of the year, with many more on the way."
Element is always looking for qualified employees in all aspects of the business — not just field technicians, Bogdan Rus says. "Elevators are such a niche market and industry, and a lot of young people don't know enough about it to want to get into the business. We need to provide more exposure to young individuals that could lead them into elevator career opportunities."
Element is a member of the Canadian Elevator Contractors Association and is a Durham College partner. The company has provided both information and equipment to the school, including "large, old-school Otis gearless machines," Rus says.
The company's 10-year goals are big. Rus says:
"Element was essentially created to be a family company that has the appearance and feel of a large corporation. We are looking to expand throughout Canada, going over to Montreal, Edmonton, Calgary and Vancouver. We eventually want to work our way into the U.S. via corporate acquisitions of smaller, independent companies. Right now, what we're trying to do is stand out as much as possible."
---
Reference