Modernizations and new construction drive work for elevator companies.
New Owner Modernizing Louisville Tower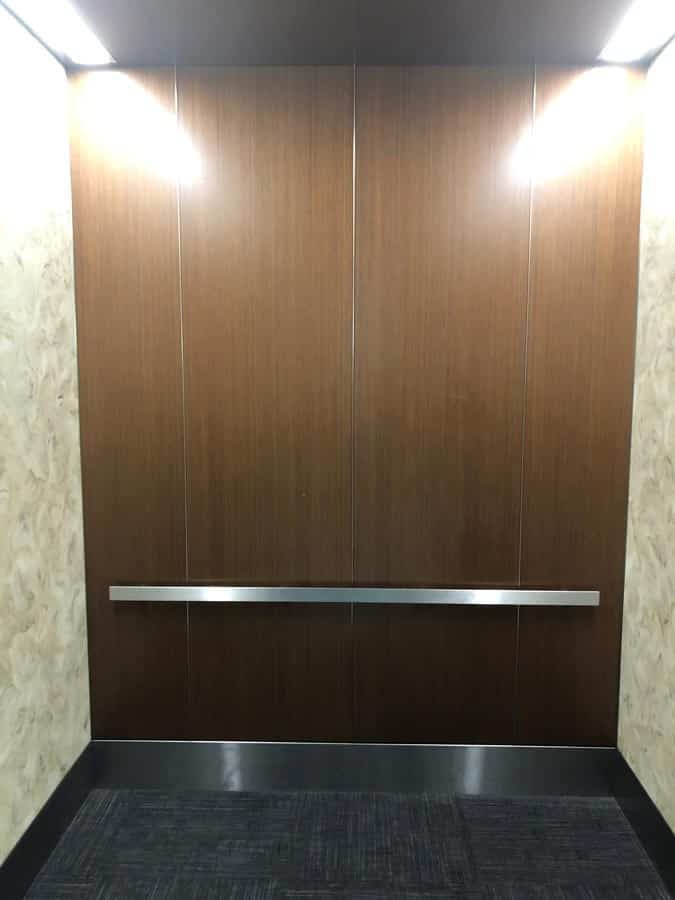 WDRB reported in May that PNC Plaza, a 30-story office tower at Firth and Jefferson streets in Louisville, Kentucky, has long served as a "poster child" for problems plaguing the market for office space. Its loss of anchor tenant PNC Bank was followed when other tenants fled to the suburbs, leaving the building more than half-vacant. But, the building's new owner has a US$16 million plan to breathe "new life" into the aging office tower, which is now called 500 West Jefferson, a nod to its street address. "What we're doing is going to change the trajectory of 500 West. And it'll be noticeable," said Andrew Marchetti, the New York-based vice president of SomeraRoad, a private equity firm. It began work in early May on a project to restore the building to its former glory. We are heads-down focused on delivering the best building in the market," Marchetti said. Plans include doubling the size of the lobby and opening it up with a two-story atrium and mezzanine, as well as reorienting the main entrance from Fifth Street to Jefferson Street and adding sidewalk seating.
On the fourth floor, SomeraRoad will convert leasable space in a tenant lounge and enclose a currently unused roof to make a rooftop terrace for drinks and private events. The lounge will include seating areas, TVs, a bar and private "bourbon cabinets" where tenants can store their liquor.
On the other side of the floor, the company will build a 1,700-ft2 fitness with locker rooms and showers. Building Senior General Manager Ken Haskins says the vertical-transportation system makeover by Otis will update the tower's 13 elevators: six serving floors 1-16, six for floors 17-29 and a service elevator that covers 31 stops. The building project should be complete by the end of the year or the first few months of 2022.
Construction of Salesforce Tower Chicago Nearing Halfway Point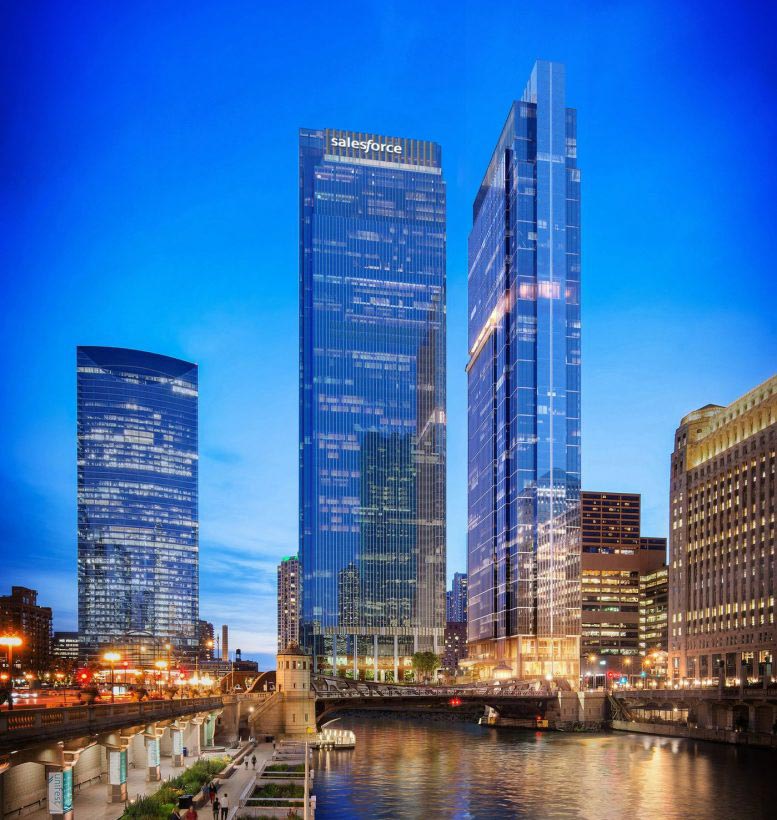 Construction on Salesforce Tower Chicago in River North, known as Wolf Point South, is approaching the halfway mark, Chicago YIMBY reported in May. Rising 60 stories at 333 West Wolf Point Plaza, Wolf Point South is the final, US$800-million building in the three-part master plan known as Wolf Point. Hines is developing Salesforce Tower Chicago in partnership with longtime landowner, the Joseph P. Kennedy Family, as well as Diversified Real Estate and AFL-CIO Building Investment Trust. The tower will yield 1.2 million ft2 of space anchored by Salesforce with 525,000 ft2 signed to a long-term lease. Pelli Clarke Pelli Architects designed Salesforce Tower Chicago, the neighboring 679-ft-tall Wolf Point East and the overall master plan. Walsh Construction is the general contractor, the architect of record is HKS and Persohn/Hahn handled vertical-transportation design. The elevators for Salesforce Tower Chicago are supplied by Otis. This includes one retail service elevator, two garage elevators, two restaurant/retail elevators, one Riverwalk public exterior elevator, two 5000-lb SkyRise™ service elevators, and 24 3500-lb SkyRise™ passenger elevators with destination dispatch technology.
The new tower will provide 25,000 ft2 of retail and dining in the base, which will be open to the public. The fourth floor of the tower will be the private amenity space for the office tenants and will include a lounge, a fitness center and a conference center with office space above. Current construction will provide a new urban park area, a plaza, a terraced seating area and the final section of Wolf Point's 1,000 ft of added Riverwalk. The office building is expected to open in 2023.
"Transformational" Downtown Milwaukee Tower Finally a Go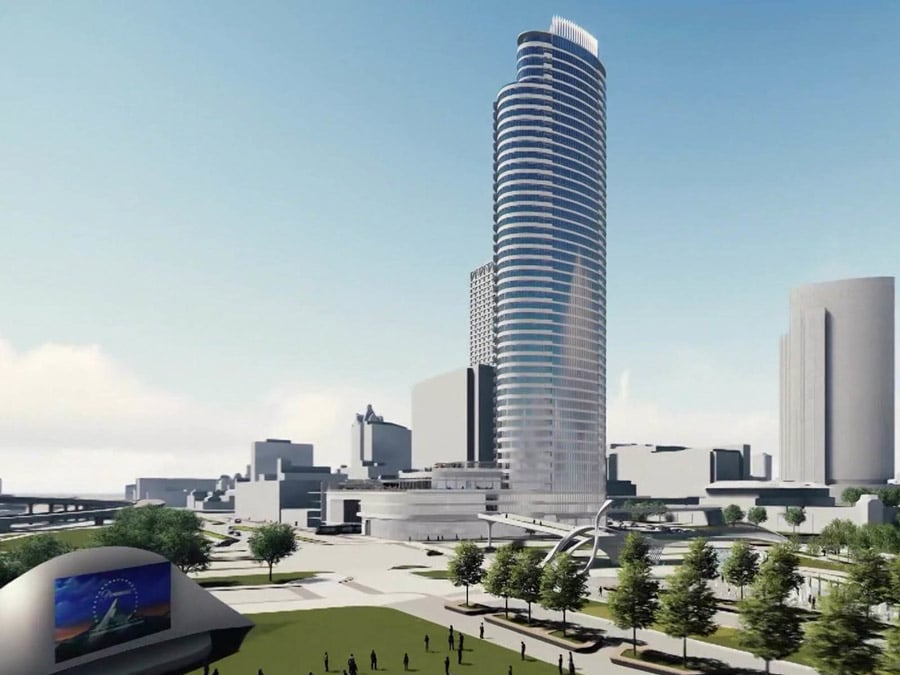 Originally announced more than seven years ago, a 44-story residential/retail tower that developer Rick Barrett describes as "transformational" for downtown Milwaukee is finally a go, OnMilwaukee reported in May. Construction on Couture (ELEVATOR WORLD, June 2018) was set to begin as early as May, with verticality anticipated in early 2022. The US$188-million lakefront development will include 322 residences, 42,837 ft2 of retail, plazas, parks, pedestrian bridges and new public-transit stops. It was designed by Rika and is being developed by Barrett's company Barrett Lo Visionary Development, which closed with the U.S. Department of Housing and Urban Development on insuring the US$104.7-million loan enabling it to move forward. Completion is anticipated in fall 2023.
Downtown Dallas Office Skyscraper Tallest Since 1980s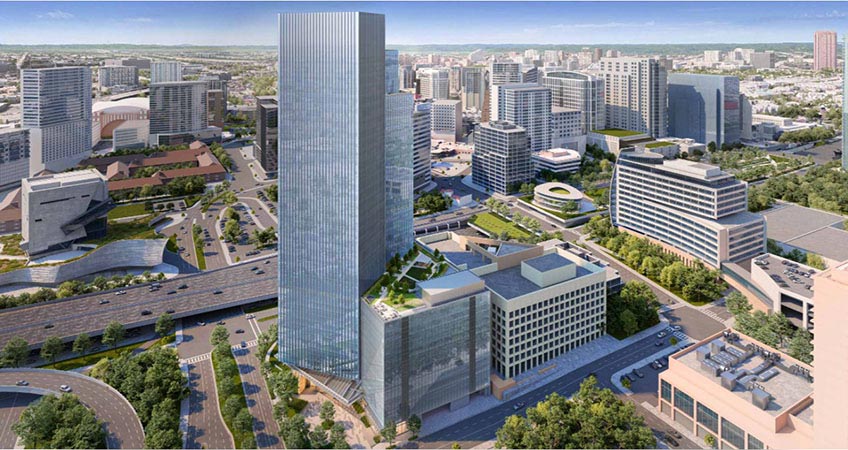 The Field Street Tower office building, a 38-story, 520,000-ft2 skyscraper, is coming to downtown Dallas, located at the southeast corner of Field Street and Woodall Rodgers Freeway, the Dallas Business Journal reported in May. The tower is planned to reach 600 ft and will be Dallas' tallest office building since the 1980s. Field Street Tower will have an average floorplate of 25,000 ft2. The ground floor will offer indoor/outdoor restaurant space, and the building will have several floors of above-ground parking with a skylobby located more than 150 ft in the air. This level will house the building's primary reception area along with tenant amenity spaces and the building's half-acre park offering greenspace, seating areas and views of Klyde Warren Park and the Perot Museum. The building's HVAC system is designed with an UV-C air disinfection system. The project will not break ground until an anchor tenant is in place.