News from San Francisco YIMBY: towers being planned and taking shape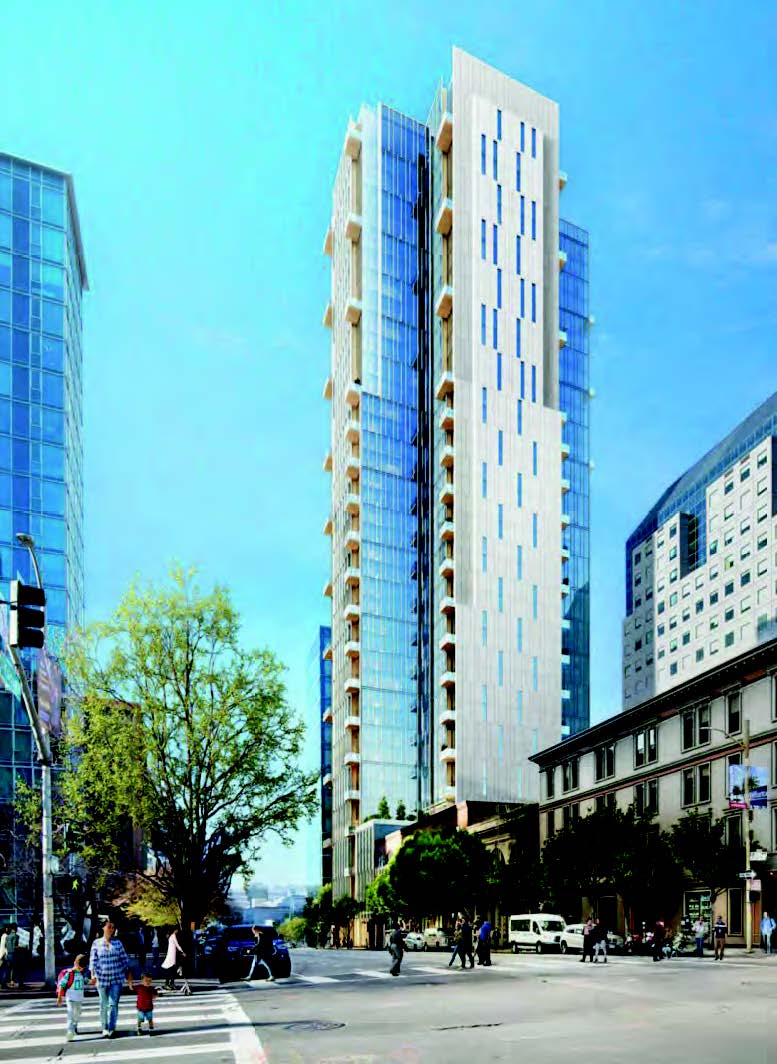 Permits Filed for San Francisco Residential High Rise
Developers have filed permits to build a 42-story residential building in San Francisco's SoMa (South of Market) neighborhood, the source reported in October. The 444-ft-tall tower, at 95 Hawthorne Street and being developed by John Hancock Financial Services Co., will sport a design by architects Skidmore, Owings & Merrill (SOM) and hold 412 units, an increase of 20 since the project won approval in the latter half of 2019. The building will hold more than 475,000 ft2 for residences and 4,000 ft2 of ground-floor retail. Units will range from one to three bedrooms, with 55 to be priced affordably. Aiming for Leadership in Energy and Environmental Design Gold certification, the project, originally proposed by another developer in 2016, includes the US$186-million purchase of a 1908 office building, which will be demolished at a cost of US$65,000. The permit listed an estimated construction cost of US$180 million, bringing the total cost to approximately US$366 million. A construction timeline was not given.
San Francisco Mixed-Use Tower Shows Marked Progress
The 26-story 30 Otis Street, a mixed-use tower under construction in San Francisco's South of Market (SoMa) neighborhood, was close to topping out in September. Standing 250 ft tall, with an adjacent 85-ft-tall podium, 30 Otis Street will offer 418 rental apartments, ranging from studios to three bedrooms, within its 398,000 ft2. Amenities include a pool deck, fitness center, rooftop deck and a second-floor recreation space. There will also be 4,000 ft2 of retail, a coworking space and 18,000 ft2 dedicated to the City Ballet School. The building is aiming for Leadership in Energy and Environmental Design Gold certification. The project is going up in an 84-acre high-rise zone known as "The Hub." Align Development is the company behind 30 Otis Street, and the designer is Gould Evans. Completion appears likely in 2021.
Residential Tower Planned for Downtown San Jose
A developer is planning a 30-story residential building at 605 South Second Street in downtown San Jose, California, which would be just 8 ft shorter than the nearly complete, two-tower MIRO (ELEVATOR WORLD, November 2020). Being developed by ROYGBIV, 605 South Second will yield 289,324 ft2 of space, with 274,250 ft2 dedicated to residences and 6,400 ft2 for second-floor amenities, including an after-school daycare, a fitness center and a lounge. There will also be a 1,630-ft2 rooftop deck and parking for 96 cars and 114 bicycles. The 290-ft-tall structure will have 345 units ranging from studios to three-bedroom homes, with at least 70% of the units set aside as "affordable." The design, by Anderson Architects, will feature white balconies accenting a tinted curtain wall façade. The building will likely target working-class and entry-level technology workers, as well as students at San Jose State and Santa Clara universities. The building will be within walking distance of light rail and bus lines. No construction timeline was given.
Get more of Elevator World. Sign up for our free e-newsletter.